Blog
Fallen Chocolate Cake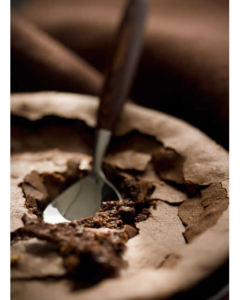 Cake:
½ cup room temperature unsalted butter, cut into one inch pieces plus more for pan
¾ cup plus 2 tablespoons sugar, divided, plus more for pan
10 oz. good quality bittersweet chocolate, coarsely chopped
2 tablespoons vegetable oil
6 large eggs
2 tablespoons unsweetened cocoa powder
1 tablespoon vanilla extract
¾ teaspoon kosher salt
Topping:
1 cup chilled heavy cream
½ cup mascarpone cheese
3 tablespoons powdered sugar
Preheat oven to 350 F. Lightly butter 9 " springform pan and dust with sugar, tapping out any excess. Combine chocolate, oil and ½ cup butter in a large heatproof bowl. Set over a saucepan of simmering water and heat, stirring often, until melted. Remove bowl from saucepan.
Separate 4 eggs, placing whites and yolks in separate medium bowls. Add cocoa powder, vanilla, salt, ¼ cup sugar and remaining 2 eggs to bowl with yolks and whisk until mixture is smooth. Gradually whisk yolk mixture into chocolate mixture, blending well.
Using an electric mixer on high speed, beat egg whites until frothy. With mixer running, gradually beat in ½ cup sugar; beat until firm peaks form. Gently fold egg whites into chocolate mixture in two additions. Scrape batter into prepared pan, smooth top and sprinkle with remaining 2 tablespoons sugar. Bake until top is puffed and starting to crack, 35 to 45 minutes.
Transfer to a wire rack and let cake cool completely in pan. Cake will fall as it cools. Whip the topping ingredients until fluffy and pile on the cake.