March 23, 2021
As the weather warms we are hopeful that our honey bees made it through the cold, wet winter. We love our honey and are always looking for new recipes featuring this special ingredient. This recipe is sweet and hot, and would make a great snack to enjoy while watching the NCAA basketball tournament. As for wine, I especially enjoy Gewürztraminer with spicy food. You might also try an off-dry Riesling. Stay away from anything oaked or very dry. A crisp lager would be another good choice.
Honey Jerk Chicken Wings
20 chicken wings
Marinade
1 tablespoon of finely minced ginger
2 garlic cloves, chopped
4 green onion tops, chopped
¼ to ½ hot pepper, deseeded and finely chopped
1 teaspoon fresh thyme leaves
2 teaspoons nutmeg
1 teaspoon ground allspice
1 teaspoon salt
3 tablespoons honey
1/3 cup apple cider vinegar
2 tablespoons olive oil
Put all ingredients for the marinade in a blender and process to a smooth paste. Put chicken in a non-metallic bowl and mix with the marinade. Cover and refrigerate overnight. Preheat oven to 375 and line a baking sheet with parchment. Cook wings for 45 minutes. Serve with a wedge of lime.
We sometimes gets such lovely letters from guests that we can't wait to share them! We received two such letters this month.
John and Susan wrote:
"Dear Lee,
Susan and I want to take a minute to say a special thank you to the entire Buckhorn team for making our visit February 27-March 2 especially memorable.
We totally appreciate the effort expended by you, and everyone around you, to meet our every need. Our son and his wife had a much-needed relaxing time as they await their first child in June. As older parents-to-be they are being especially cautious with the virus, and anything else that might create risk for this pregnancy.
Both commented that it was so nice to just be able to be, without worrying about their safety, or what other people might be doing that might endanger them. They knew that you guys had their backs. They could sense the caring from everyone! Someone even took the time to write Happy Birthday on our dinner containers Sunday night! Laura said these were the first days in nearly a year that she hasn't worried about something! Lest the kitchen team be concerned—they loved the food, as did we.
You know we will be back, rest assured that David and Laura look forward to joining us again at some future date.
Our granddaughters are already planning our July visit. They had us check on the swans, told us to bring home coffee mugs for their hot chocolate, and are making plans for games, movies, playing soccer below the Webb Mountain parking lot, hiking in the Smokies, and feeding lettuce to the swans. They might even leave artwork in the Webb Mountain Loft for someone else to discover while exploring.
Special thanks to Libby, Tracey, Debbie, Hugo, the birthday greeting messenger, and all the rest. I know I've overlooked someone, but we hope that everyone knows that we appreciate them. The Buckhorn Inn is special because of its people."
And from Pam and Mike:
"Dear Lee,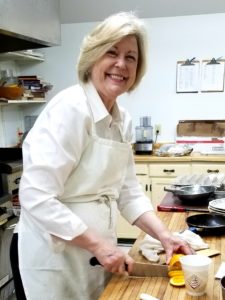 I just wanted to write you a note to tell you how much Mike and I have enjoyed our stay at Buckhorn this week. It has always been a special place to us and this year is no exception. A highlight this year was the absolutely delicious crab cake and shrimp dinner the chef prepared last night! And that chef was you! Our group decided that it was the best dinner we had ever had at Buckhorn. We did not know that culinary skills were among your many talents. We enjoyed our evening meal so much and hope that you will continue being chef sometimes at Buckhorn. We also were so pleased to learn that your son and daughter-in-law are also working here—a special family legacy. We look forward to getting to know them. It was so good to see you yesterday and you just looked wonderful, as always. We will always have special memories of Buckhorn, you, and John."
March 1, 2021
Have you ever shared a review of Buckhorn Inn?  One of the most pleasant innkeeping tasks is reading reviews from our guests on TripAdvisor.  We love hearing your reactions to your stay.  And we are grateful to know of any ways we can make your time with us even better.  Today we are sharing a recent review from a first-time guest.
mom2ginny
 wrote a review on Feb 26, 2021
Hopefully, the first of many trips.
For Christmas, my husband and I received a gift certificate for the Buckhorn Inn. the Inn is located a few miles from downtown Gatlinburg away from the rush of the tourist area on a quiet and peaceful hill.
We were greeted by Lee at check in and directed to our room. She directed us to where we would find the fresh fruit, coffee and homemade treats (brownies and cookies were available during our short stay).
I have never seen a room so immaculately clean and tastefully decorated. It was if every item in the room had been carefully thought-out and placed so as to be lovely, but not cluttered. There was not a speck of dust to be found anywhere.
It didn't take long until we had chairs pulled up to the fireplace with our feet propped on the hearth. The room was so quiet we wondered if anyone else was at the Inn.

Dinner is offered by reservation only, but we had opted to go out for dinner. When we left our room to go out, we realized by the smell we should have made reservations for dinner at the Inn. We will next visit.
For breakfast, you are given a menu to choose from 4 entrees plus a couple of healthier options. The first morning we chose the basic egg and meat breakfast. It was served with hash brown casserole, fresh fruit, biscuits with jelly and coffee cake. The coffee cake was so good that I wish that I had the recipe. The following morning we had cream cheese with blackberries stuffed waffles. That was accompanied by warm syrup, breakfast meat, a fried pie and melt in your mouth biscuits.
Every guest that we spoke with said that they were repeat guests of the Inn. Many of them having stayed at the Inn 8 – 10 times previously. My husband and I understand why. We have had our first stay of what we hope will be many more visits to this wonderful inn!