Blog
Love Letters
We sometimes gets such lovely letters from guests that we can't wait to share them! We received two such letters this month.
John and Susan wrote:
"Dear Lee,
Susan and I want to take a minute to say a special thank you to the entire Buckhorn team for making our visit February 27-March 2 especially memorable.
We totally appreciate the effort expended by you, and everyone around you, to meet our every need. Our son and his wife had a much-needed relaxing time as they await their first child in June. As older parents-to-be they are being especially cautious with the virus, and anything else that might create risk for this pregnancy.
Both commented that it was so nice to just be able to be, without worrying about their safety, or what other people might be doing that might endanger them. They knew that you guys had their backs. They could sense the caring from everyone! Someone even took the time to write Happy Birthday on our dinner containers Sunday night! Laura said these were the first days in nearly a year that she hasn't worried about something! Lest the kitchen team be concerned—they loved the food, as did we.
You know we will be back, rest assured that David and Laura look forward to joining us again at some future date.
Our granddaughters are already planning our July visit. They had us check on the swans, told us to bring home coffee mugs for their hot chocolate, and are making plans for games, movies, playing soccer below the Webb Mountain parking lot, hiking in the Smokies, and feeding lettuce to the swans. They might even leave artwork in the Webb Mountain Loft for someone else to discover while exploring.
Special thanks to Libby, Tracey, Debbie, Hugo, the birthday greeting messenger, and all the rest. I know I've overlooked someone, but we hope that everyone knows that we appreciate them. The Buckhorn Inn is special because of its people."
And from Pam and Mike:
"Dear Lee,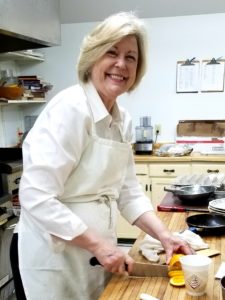 I just wanted to write you a note to tell you how much Mike and I have enjoyed our stay at Buckhorn this week. It has always been a special place to us and this year is no exception. A highlight this year was the absolutely delicious crab cake and shrimp dinner the chef prepared last night! And that chef was you! Our group decided that it was the best dinner we had ever had at Buckhorn. We did not know that culinary skills were among your many talents. We enjoyed our evening meal so much and hope that you will continue being chef sometimes at Buckhorn. We also were so pleased to learn that your son and daughter-in-law are also working here—a special family legacy. We look forward to getting to know them. It was so good to see you yesterday and you just looked wonderful, as always. We will always have special memories of Buckhorn, you, and John."