February 5, 2022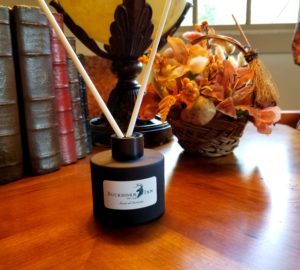 Scents have a stronger link to memory and emotion than information garnered by our other senses.  The scientific explanation is that when you hear, touch, taste, or see something, the information heads to your thalamus, your brain's relay station. Then that information is sent to
other areas of the brain. But when you smell something, the information bypasses the
thalamus and goes directly to the olfactory bulb. This may explain why a particular scent can
trigger a detailed memory or an intense emotion.
We learned this in working with an artisan to create a unique aroma for Buckhorn Inn—the
Scent of Serenity. We began by identifying all the aromas that you have told us you associate with a vacation here: robust coffee, fresh herbs on the veranda, clean sheets, morning rain,
roses, fresh-baked bread, antique wood, pine, warm maple syrup, books, wood smoke, and
others. We described a stay here in the words you have given us: relaxing, serene, cozy, quiet.
Our scent expert used this information to develop six unique scents.
Lee and Sharon each spent a week trying out the scents and both fell in love with the same one. We have dubbed it Scent of Serenity.   
The Scent of Serenity is subtle, warm and cozy, and has hints of smoke, spice, antique wood,
and greenery. We are using diffusers with the Scent of Serenity in the entry way, library, sitting
room, office, and the premier suites.
If you would like to take an air of serenity home with you, diffusers of this custom scent and
reeds are available in our gift shop for $27. It is our hope that when you catch a subtle hint of
the Scent of Serenity, it will trigger happy memories of your stays with us.
I rarely order dessert as I usually am not in the mood for something sweet after a meal. I am,
however, very fond of ending a meal with a cheese plate. In France the cheese course comes
after the main course and before dessert, but I find I usually enjoy it in lieu of dessert.
I used a cheese course as inspiration for a Wednesday dessert I made this October. I made a
pear tart with a cheddar cheese crust and a cheese streusel topping. I carried the idea further
by serving it with a candied pear slice and toasted pecans. Several kind guests told me how
much they enjoyed it. The pears are the star of this dish and bring the sweetness. You may
use your favorite variety, but be sure they are ripe but firm. The Cheddar brings a bit of salt
and tang—use a good quality cheese. This dish also could be served as a brunch dish. I hope
you enjoy this taste of winter!
Pear and Cheddar Tart
Crust
1/3 cup vegetable shortening
1 cup all-purpose flour
1/8 teaspoon salt
1/8 teaspoon sugar
1 cup shredded sharp Cheddar cheese
4 to 6 teaspoons of ice water
Chill shortening in freezer for 15 minutes. Place flour, shortening, salt, sugar and cheese into a
food processor. Pulse 6 or 8 times until the mixture resembles peas. Add 4 teaspoons of ice
water. Pulse until the dough holds together—adding additional water if it seems dry. Form
dough into a disk and refrigerate until cold. Roll out dough between waxed paper. Peel off the
paper and fit the dough into a 10" tart pan with a removable bottom. Trim the edges. Line the
crust with foil and fill with pie weights or beans. Place on a baking sheet and bake at 400 F on
the bottom rack of the oven for 10 minutes. Remove the foil and weights—the edges of the
dough will stick a bit to the foil so you will need to use a knife to carefully loosen it. Return the
crust to the oven for 13 to 15 minutes. It will be golden. Cool on a rack.
Filling and Topping
1 stick unsalted butter, melted
1 cup all-purpose flour
1/2 cup sugar
1/4 teaspoon salt
1 cup shredded sharp Cheddar cheese
1 1//2 lbs. pears
Mix together butter, flour, sugar, salt and cheese until crumbly. Peel pears, cut in half and core,
and cut into 3/4" thick slices. Arrange slices very close together in crust. Sprinkle cheese
mixture over top. Place tart pan on a baking sheet. Bake in 400 F oven on bottom rack for 35
to 40 minutes. The streusel will be brown and the pears tender. Remove sides of pan before
serving. Best served warm. Makes 8 servings.