Blog




November 28, 2017
Whether you are baking for guests or Santa, the buttery refinement of the sugar cookie can't be beat!
Lore has it that the first sugar cookies appeared around the seventh century. It is possible that a baker around that time used mini versions of his cakes to test the temperature of his oven. When he began selling these mini-cakes, the sugar cookie was born!
The type of sugar used makes a difference in the texture of the finished cookie. Fine sugar granules will make a cookie that is flatter and crisper. Large sugar granules result in a thicker, chewier cookie. This is because the dissolving of the sugar causes the dough to spread. If the sugar is coarser, it will dissolve more slowly.
Our recipe makes about 4 dozen soft and scrumptious cookies. One way to make them uniquely yours is to use a cookie stamp. The die blocks transfer patterns to the cookies that you can then decorate with food paints and sprinkles. Enjoy!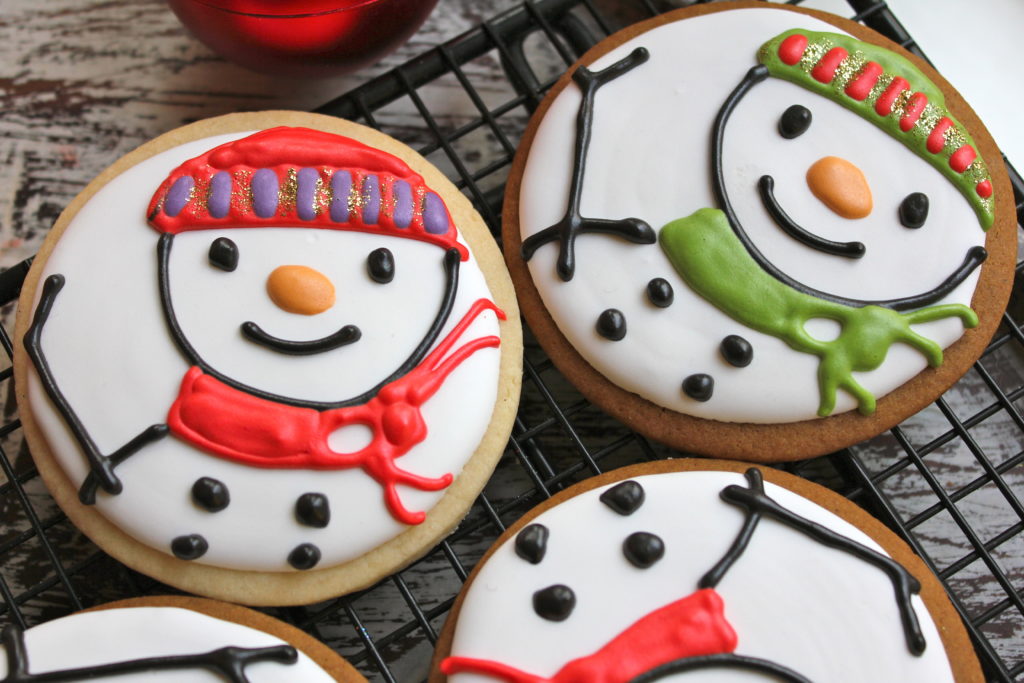 Buckhorn Inn Sugar Cookies
1 cup Butter, softened
1 cup Vegetable Oil
2 large Eggs
1 cup Granulated Sugar
1 cup Confectioner's Sugar
2 teaspoons Vanilla
4 ¼ cups All-Purpose Flour
½ teaspoon Salt
1 teaspoon Baking Soda
1 teaspoon Cream of Tartar
½ cup additional Granulated Sugar for rolling
Preheat oven to 350 degrees.
Cream butter, oil, eggs, sugars and vanilla. In a separate bowl combine flour, salt, baking soda, and cream of tartar. Add the flour mixture to the creamed mixture. Form into 1 inch balls and roll in granulated sugar. Place the cookies on an ungreased cookie sheet and flatten. Bake 10 to 12 minutes until light, golden brown. Let the cookies cool on the cookie sheet for 2 minutes before placing them on a cooling rack.
November 13, 2017
Guests tell us that dessert is a highlight of any Buckhorn Inn dinner.  And why not!  With such delights as coconut cream pie, apple-cranberry crisp, and our special "that" chocolate cake, all dinners end on a sweet note.  But have you ever wondered about the history of dessert?
How Dessert Came to Be
Ancient peoples enjoyed dried fruits and nuts candied with honey.  However it was not until the production of sugar that sweet dishes became popular parts of a meal.   Sugar was expensive, so sweet treats were reserved, for the most part, for the wealthy and special occasions.  
In Medieval Europe, sweet and savory dishes were served alongside each other.  It was not until the 1600's that service a la francaise (serving all dishes at once) became replaced with service a la russe (serving one course after another) and sweets claimed their place as the final course of a meal.
It was at that time that the word "dessert" came into popular use.  The word comes from the French word "dessirvir" which means "to clear the table".  In other words, desserts were served after the table was cleared of main dishes.  For more information on some of your favorite meal-enders, visit http://www.history.com/news/hungry-history/category/desserts
The recipe for one of our guest-favorites appears below.  Enjoy!
Brown Butter Almond Torte with Sour Cherry Sauce
Torte
1/2 cup unsalted butter
1 tsp vanilla
1 cup blanched almonds
1/2 cup AP flour
1 cup sugar
3/4 tsp salt
6 large egg whites
1/3 cup sliced almonds
Preheat oven to 375 F.  Butter and flour a 9″ round cake pan.  Melt butter over moderately low heat.  Continue to cook until golden brown with a nutlike fragrance.  Cool and then stir in vanilla.  In a food processor finely grind blanched almonds with flour, 2/3 c. sugar, and 1/2 tsp salt.  With an electric mixer beat egg whites and remaining 1/4 tsp salt until they hold soft peaks.  Gradually add remaining 1/3 cup sugar, beating until meringue holds stiff peaks.  Fold in almond mixture.  Then fold in butter mixture.  Batter will deflate.  Spread batter into cake pan and top with sliced almonds.  Bake 35-40 minutes until tester comes out clean.  Cool in pan on a rack 15 minutes.  Remove from pan and cool completely.
Sour Cherry Sauce
3 cups sour cherries, pitted.  (about 1 1/2 lbs.)
1/2 cup sugar
1/2 cup water
1 tsp cornstarch
Bring cherries, sugar and water to a boil.  In a cup stir together cornstarch and 1 tablespoon water until dissolved.  Stir into cherry mixture.  Simmer sauce 2 minutes and cool to room temperature.  This recipe makes 6-8 servings.
September 11, 2017
A hearty soup is perfect for fall, whether you are tailgating or relaxing after an afternoon of raking leaves.  This soup is a Buckhorn Inn favorite and we are happy to share it with you.
Black-eyed Pea and Collards Soup
In a stockpot, bring to a boil:
1 lb. dried black-eyed peas
3 qts chicken stock
3 ribs diced celery
1 diced onion
2 cloves minced garlic
1 tsp dried thyme
1 tbl chopped parsley
2 bay leaves
1 tsp black pepper
Slowly boil until the peas are just tender.  Then add:
12 ozs fresh or frozen chopped collards
Salt to taste
1 cup diced cooked ham or 1/2 cup cooked and crumbled bacon
Continue to cook until the peas are tender, adding more stock if necessary.  Taste and correct seasonings.  Some of our guests enjoy this soup with hot pepper-flavored vinegar or other hot sauce.  Cornbread makes a wonderful accompaniment.  This recipe makes 12 servings.
Black-Eyed Peas are Popular Throughout the South
The legume was introduced to the Southern U.S. as early as the 17th century.  George Washington Carver was a proponent of planting the crop as it puts nitrogen back into the soil and is densely nutritious.  The peas contain calcium, folate, protein, fiber, and vitamin A–all for less than 200 calories a cup!  The blossoms produce nectar and attract bees and other pollinators.
A black-eyed pea soup such as this one often is served on New Year's Day as it is thought to bring prosperity in the coming year.  The peas swell when they cook, thus symbolizing prosperity.  The greens represent money.  Because of the rooting style of pigs, pork products are thought to symbolize forward motion.  And serving this dish with cornbread (symbolizing gold) must guarantee success in this New Year!
Some say that when General Sherman marched his Union Army to the sea during the Civil War they pillaged the Confederate food supply.  They left behind, though, the dried peas and salt port as they thought these foodstuffs not fit for human consumption.  The Southerners considered themselves fortunate to have this food left behind to see them through, and this may be how the peas first became associated with good luck in the United States.
For more black-eyed pea recipes and cooking tips, visit the Southern Living website http://www.southernliving.com/side-dishes/how-to-cook-black-eyed-peas
Happy fall, y'all!
June 26, 2017
Dinner guests at the Buckhorn Inn on June 28 have a real treat in store–bumbleberry cobbler for dessert!
You may ask how many bumbleberries it takes to make one cobbler?  The answer is that there is no actual fruit called a "bumbleberry".  Rather, the word describes a mix of berries, or a  "jumble" of berries.  The delicious combination most commonly is used in a pie or in preserves.  Typically the mix includes both sweet and tart flavors that burst into juicy goodness in your mouth.  We bake ours into a cobbler that features a tender crust.  Wikipedia credits Western Massachusetts as the home of the bumbleberry.  Lore has it that the name came from a waitress who was asked what kind of pie was being served.   Bumbleberry recipes have appeared in print since the late 1950's, and we argue that ours is one of the best.
Bumbleberry Cobbler Recipe
Preheat oven to 375 F.
1/2 cup cold butter
1 cup sugar
1 cup self-rising flour
3/4 cup milk
1 teaspoon vanilla
1 tart apple, cored, peeled and sliced
1/2 cup diced rhubarb
1 cup fresh sliced strawberries
1/2 cup blueberries
1/2 cup raspberries
1/2 cup blackberries
Cut cold butter into pats and line the bottom of a 6″x 9″x 2″ pan.  Blend the flour and sugar.  Add the milk and vanilla and stir to make a batter.  Pour the batter into the prepared pan.  Mix fruit together and pour on top of the batter.  (Optional:  if the berries are not sweet you may add 1/2 cup sugar to them.)  Bake for 30-40 minutes until golden brown.  The batter will rise to the top as it bakes.  This recipe makes 10-12 delicious servings.
For a preview of other delightful menus coming up at the Buckhorn Inn, please visit our website https://www.buckhorninn.com/dining
February 7, 2017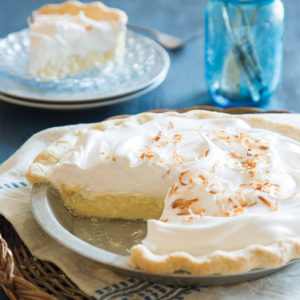 Crust
1 1⁄4 cups all-purpose flour
1 teaspoon kosher salt
1 teaspoon sugar
8 tablespoons cold unsalted butter, cubed
4 tablespoons whole buttermilk, chilled
Filling
1⁄2 cup sugar
3 tablespoons cornstarch
1⁄8 teaspoon kosher salt
1 cup whole milk
1 cup unsweetened coconut milk
4 large egg yolks
1 cup sweetened flaked coconut
1 teaspoon vanilla extract Coconut Whipped Cream (recipe follows)
Garnish: toasted sweetened flaked coconut
Instructions
Preheat oven to 350°.
For crust: In a medium bowl, stir together flour, salt, and sugar. Using a fork or pastry blender, cut butter into flour mixture until mixture resembles coarse crumbs.
Add buttermilk, 1 tablespoon at a time, stirring until a dough forms. Turn dough out onto a lightly floured surface; shape into a disk. Cover tightly with plastic wrap; refrigerate until firm, at least 30 minutes.
On a lightly floured surface, roll dough into a 12-inch circle. Transfer to a 9-inch pie plate, pressing into bottom and up sides. Fold edges under, and crimp as desired. Top with a piece of parchment paper, letting ends extend over edges of plate. Add pie weights.
Bake 20 minutes. Carefully remove paper and weights. Bake until golden brown, approximately 8 minutes more. Let cool 20 minutes on a wire rack.
For filling: In a medium saucepan, combine sugar, cornstarch, and salt; whisk in milk, coconut milk, and egg yolks. Cook over medium heat, stirring constantly, until thickened, approximately 10 minutes. Remove from heat. Stir in coconut and vanilla.
Spoon filling into prepared piecrust. Let cool 10 minutes. Place a piece of plastic wrap directly on surface of filling. Refrigerate until firm, approximately 3 hours.
Top with Coconut Whipped Cream, and garnish with coconut, if desired.
Ingredients for Topping
1 1⁄2 cups heavy whipping cream
6 tablespoons sugar
1⁄2 cup unsweetened coconut milk
Instructions
In a large bowl, beat cream and sugar at high speed with an electric mixer until soft peaks form. Add coconut milk. Beat until stiff peaks form, approximately 1 minute.
January 8, 2016
Frank is never too busy that he can't think of new ideas.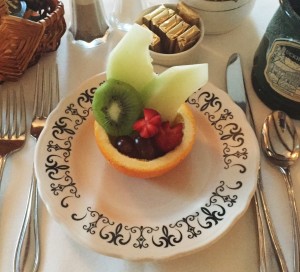 This week he produced a pretty fruit cup to serve at breakfast, taking the time to hollow out an orange and filling it with sliced honeydew, kiwi fruit, strawberries and blueberries.  The thinly sliced honeydew gives the fruit cup the benefit of added height and drama.
Frank also wanted to produce a breakfast dish which would accommodate guests who are vegetarians who eat fish.  He came up with Buckhorn's Bayou Breakfast, the layered dish you see below:  hash browns followed by crunchy fried shrimp, spinach, creamy scrambled eggs and a garnish of chopped tomatoes and green onions.  He finished it off with a great aioli sauce.  Our guests, whether vegetarians or not, really went for it.  We think the secret of the dish was the crunchy shrimp!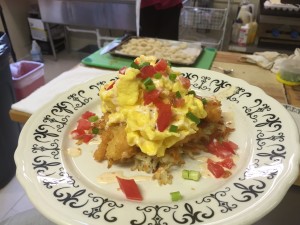 December 14, 2015
Nothing beats the winter chill  like a steaming bowl of soup.  Try these three tried-and-tested  recipes from the Buckhorn Inn  Kitchen.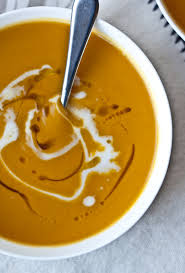 Sweet Potato-Leek Soup with Buttered Pecans
Soup
1½ Tbl Butter
¼ Cup Onions, chopped
½ Cup Leeks, washed, drained and
finely chopped
1 Lge Garlic clove, minced
2 Lge Carrots, peeled and thinly
sliced
1 Bay leaf
1 Lb Sweet potatoes, peeled and thinly sliced
¼ Lb Russet potatoes, peeled and thinly sliced
¼ Cup Dry wine
2½ Cups Chicken stock
¾ Cup Water
½ Tsp Salt
½ Tsp Pepper
In a medium saucepan, melt butter and saute the onions, leeks, garlic and carrots over medium heat until vegetables are tender. Add bay leaf, sweet potatoes, Russet potatoes, wine, chicken stock and water. Simmer, covered, for 20 minutes, or until potatoes are tender. Discard bay leaf. In a blender, puree the cooked ingredients in batches until smooth. Transfer pureed portions to a medium saucepan. Season with salt and pepper. If the soup needs thinning, add more chicken stock. To serve, ladle into soup bowls and top with a dollop of sour cream and the buttered pecans.
Garnish
1 Tbl Butter
¼ Cup Pecans, chopped
Pinch Salt
Sour Cream
Slowly melt butter in a skillet. Add pecans and salt. Cook over moderate heat. Stir occasionally for 10 minutes or until golden brown. Transfer nuts to a paper towel and drain.
Yield: 8 servings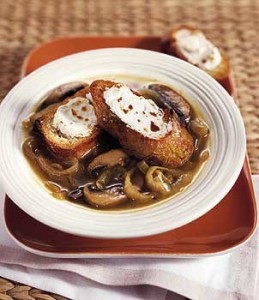 Caramelized Onion and Portobello Mushroom Soup with Goat Cheese Croutons
Soup
3 Tbl Unsalted butter
5 Cups Onions, halved, thinly sliced
4 Fresh Thyme sprigs
1½ Lbs Portobello mushrooms caps,
halved and cut into ¼ inch
thick strips
3 Tbl Cognac or brandy
3 Garlic cloves, minced
8 Cups Vegetable or chicken stock and 1 Cup Dry white wine
                                                                
Melt 1 tablespoon butter in heavy large pot over high heat. Add onions and thyme. Sauté until onions begin to soften, about 8 minutes. Reduce heat to low and cook until onions are caramelized, stirring occasionally, about 20 minutes. Transfer onion mixture to medium bowl.
Melt remaining 2 tablespoons butter in same pot over medium-high heat. Add mush-rooms. Sauté until soft, about 12 minutes. Add cognac and garlic and stir 20 seconds. Stir in onion mixture, then broth and wine. Bring to boil. Reduce heat to low and simmer until onions are very tender. Salt and pepper to taste.
Croutons
18 1-inch thick slices French bread, toasted
8 Oz Soft fresh goat cheese, room temperature
Preheat broiler. Place bread slices on large baking sheet. Spread goat cheese on bread slices, dividing equally. Broil goat cheese croutons until cheese begins to brown in spots, about 30 seconds.
Divide soup among 6 bowls. Top with croutons and serve.
Yield: 6 servings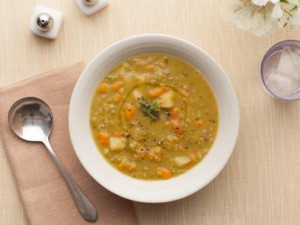 Split Pea Soup with Smoked Ham Hocks
Ingredients
o 1 large leek
o 3 to 4 tablespoons butter
o 1 large carrot, peeled and fine chopped
o 3 medium onions, peeled and chopped into 1/4-inch dice
o Meat cut from 2 large smoked ham hocks (2 to 2-1/2 pounds)
o Salt and fresh-ground black pepper
o 3 medium red skin potatoes, peeled and cut into 1/4-inch dice
o 1-1/2 cups dried split peas 
o 3 whole cloves
o 1 teaspoon ground allspice
o 1 teaspoon ground ginger
o 3/4 teaspoon dried thyme
o 1 large garlic clove, minced
o 2 14-ounce cans vegetable or chicken broth
o 3 to 4 cups water
Finish
o 2 tablespoons butter
o 1/4 teaspoon allspice
Instructions
1. Prepare the leek by cutting away the green top and the root. You'll use only the white portion. Slice the white stalk down its length and rinse it under cold running water to wash away any sand. Pat the leek dry with paper towels and slice it thin.
2. In a 6-quart pot, melt the 4 tablespoons of butter over medium-high heat. Stir in the leeks, carrots, onions, and meat, and salt and pepper. Sauté until the onions begin to brown. Then stir in the potatoes, split peas, cloves, 1 teaspoon allspice, the ginger, thyme, garlic, broth, and water. There should be enough liquid to cover the peas and vegetables by an inch. Add more water if necessary.
3. Simmer the soup, partially covered, 30 minutes, or until the split peas are almost dissolved and the potatoes are tender. Taste the soup for seasoning, and just before serving it, swirl in the 2 tablespoons of butter. Finish the soup by stirring in the last 1/4 teaspoon of allspice.
July 8, 2015
4 Oz Smoked Country Bacon, julienned
½ Cup Unsalted butter
1 LB Vidalia onions, thinly sliced
8 Clvs Garlic, peeled and left whole
2 Cups Dry White Wine
1 QT Chicken stock
1 Bay Leaf
1 TBL Fresh thyme
1 Cup Crème Fraiche, heavy cream or sour cream
Salt, Freshly ground white pepper, Tabasco, and nutmeg go taste
Zest of 2 lemons
Dash lemon juice
2 Cups Herb Croutons
3 Tbl Chives, snipped
Cook bacon until crisp. Drain on paper towels and set aside. Add butter, onions and garlic to bacon renderings, cover and cook over low heat, stirring often, until the onions are translucent and lightly caramelized. Add wine, stock, bay leaf, and thyme; brig to a boil and simmer 30 minutes.
Remove the bay leaf and puree the soup in a food processor or blender. Chill.
Whisk in the cream, crème fraiche or sour cream. Season with salt, white pepper, Tabasco, and nutmeg. Add lemon zest and juice to taste. Serve in chilled bowls.
We serve this soup hot. If you choose this option, use cream or crème fraiche, not sour cream, so the soup won't curdle.
April 28, 2015
Dough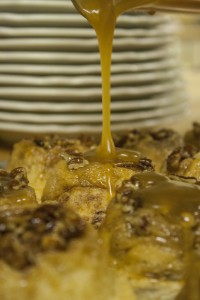 1 cup milk heated to 110 degrees F.
1 tsp yeast
1 Tbs sugar
1 ounce melted butter
All purpose or bread flour. About 3 or 4 cups
In a stand mixer add the warm milk, yeast and sugar.  Let the yeast bloom 5 minutes or until frothy. Add 2 cups of flour and the butter. Keep adding flour a little at a time until the dough starts to form a ball. Place the dough in a buttered bowl and cover with a damp towel to for one hour until doubled in size.
Sauce
1/2 pound of butter
½ pound light brown sugar
1 Tbs vanilla extract
3 ounces of heavy whipping cream
In a medium sauce pan melt the butter. When the butter is melted add the sugar and mix. Turn the heat up to medium high. Keep an eye on the mixture, whisking occasionally. When the mixture boils keep stirring until it bubbles and comes together. Remove from the heat and whisk in the vanilla. Caution–the mixture will bubble up. Add the heavy cream and mix together to make a smooth sauce.
Make the rolls.
Once the dough has risen, place it on a well-floured surface. Roll the dough into a rectangle. Brush melted butter over the entire dough area. Sprinkle ¼ to ½ pound of light brown sugar cover the dough. With a spatula spread the sugar evenly over the dough. Sprinkle the entire surface of dough with cinnamon to your desire. Starting at the edge far from you roll the dough towards you to make a long roll.
Using 12 cup muffin tin add 2 TBS. sauce to each tin. Add some pecan pieces to each tin.
Cut the dough into 12 pieces and place in the tins. Place the muffin in on a cookie sheet and bake in a preheated 350 degree oven for 30 minutes or until golden brown. When removed from the oven invert onto a cookie sheet.
June 27, 2014
In July you can ice cream with everything at Buckhorn Inn.  In 1984, President Ronald Reagan proclaimed July as national ice cream month. Chef Robert Neisler celebrates each year by offering up some decadent ice cream desserts like Strawberry Smoothie Ice Cream Pie, Triple Chocolate Ice Cream Sandwich, Old-Fashioned Mud Pie, Mint Chocolate Grasshopper Pie, Peach Melba Ice Cream Pie and Peanut Butter 'n Chocolate Treat, Turtle Ice Cream Pie with Caramel, Chocolate and Pecans.
Check out our weekly menus to see when your favorite ice cream dessert will be served.  In honor of the celebration, we are sharing a recipe for Strawberry Smoothie Ice Cream Pie (see below).  But–it tastes so much better if we make it for you. 
Yield:  10-12 servings
Ingredients
1 (7-ounce) package waffle cones, broken into pieces
6 tablespoons butter, melted
1 tablespoon granulated sugar
2 (1-quart) containers premium vanilla ice cream, divided
1 (16-ounce) container fresh strawberries (1 quart), stemmed
1/4 cup powdered sugar, divided
1 pint fresh blueberries
2 ripe bananas
Garnishes:  waffle cone pieces, fresh whole strawberries, fresh blueberries 
Preparation  Process first 3 ingredients in a food processor until finely crushed. Firmly press mixture onto bottom of a lightly greased 10-inch springform pan.  Bake at 350° for 10 minutes. Cool completely in pan on a wire rack. Let vanilla ice cream stand at room temperature 20 minutes or until slightly softened.  Process strawberries and 2 tablespoons powdered sugar in a food processor until pureed, stopping to scrape down sides; remove strawberry mixture, and set aside.  Process blueberries and 1 tablespoon powdered sugar in food processor until pureed, stopping to scrape down sides; set aside.  Mash bananas with a fork in a large bowl; stir in remaining 1 tablespoon powdered sugar. Set aside.  Place 1 quart of ice cream in a large bowl; cut into large (3-inch) pieces. Fold strawberry mixture into ice cream until blended. Place in freezer until slightly firm.
Divide remaining quart of ice cream in half, placing halves in separate bowls. Stir blueberry mixture into half and mashed banana mixture into remaining half. Place bowls in freezer. Spread half of strawberry mixture evenly into prepared crust in springform pan. Place pan and remaining strawberry mixture in freezer. Freeze 30 minutes or until strawberry layer in pan is slightly firm. Spread banana mixture evenly over strawberry layer in pan; return pan to freezer, and freeze 30 minutes or until banana layer is slightly firm. Repeat procedure with blueberry mixture. Spread remaining strawberry mixture over blueberry layer in pan, and freeze 3 hours or until all layers are firm.  Let pie stand at room temperature 15 minutes before serving. Garnish, if desired.