Blog
Pan-Roasted Pork Chops with Creamy Cabbage and Apples
Pork paired with apples is a classic combination.  The apples contribute a touch of sweetness and flavor to the chops and match well with the cabbage.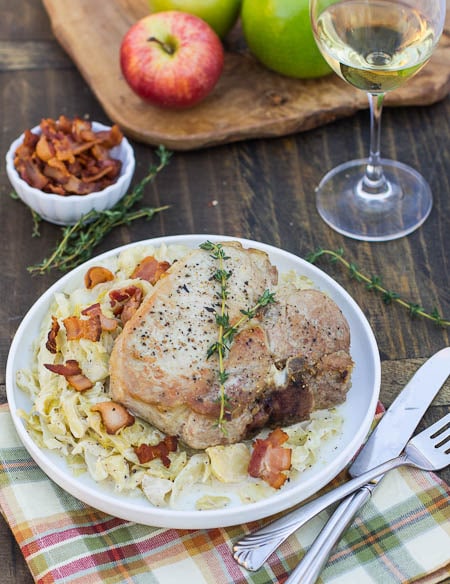 Mashed sweet potatoes would make a lovely autumnal starch to pair with this dish.  Pour yourself a glass of Riesling and say welcome to fall!
Pan-Roasted Pork Chops with Creamy Cabbage and Apples 
¼         Cup     Plus 1 tablespoon olive oil
4                      Thyme sprigs
1                      Garlic clove, coarsely chopped
4                      12-ounce bone-in pork loin chops     
3                      Thick slices of applewood-smoked bacon, cut into ½ inch dice
2          Tbl       Unsalted butter
½                     savoy cabbage, thinly sliced crosswise
1                      Granny Smith apple-peeled, cored and cut into 1/2–inch dice
1          Tsp      White wine vinegar
1          Tbl       Dijon mustard
¾         Cup     Heavy cream
¾         Cup     Milk
            Salt and freshly ground pepper
In a large, shallow dish, combine ¼ cup of the olive oil with the thyme sprigs and garlic.  Add the pork chops and turn to coat with the marinade.  Refrigerate overnight. 
In a large skillet, cook the bacon over the moderate heat, stirring a few times, until browned, about 4 minutes; pour off the fat.  Add the butter and cabbage to the skillet, cover and cook over moderate heat, stirring occasionally, until the cabbage is tender, about 7 minutes.  Add the apple and vinegar, cover and cook, stirring occasionally, until the apple is tender, about 5 minutes.  Stir in the mustard and cream and simmer uncovered over moderate heat until the cream has thickened, about 3 minutes.  Season with salt and pepper, cover and keep warm. 
Preheat the oven to 325 F.  In a large ovenproof skillet, heat the remaining 1 tablespoon of olive oil until shimmering.  Remove the pork chops from the marinade; discard the thyme sprigs and scrape off the garlic.  Season the chops with salt and pepper and add to the skillet.  Cook over moderately high heat until richly browned, about 3 minutes per side. 
Transfer the skillet to the oven and roast the chops for about 12 minutes, turning once halfway through, until just pink in the center.  Transfer the pork chops to plates and serve with the cabbage. 
Yield:  4 servings