Blog




October 30, 2013
Ray and I have enjoyed your hospitality twice while hiking near Gatlinburg. Both times we have personally been greeted by both of you at breakfast or dinner. Your gracious touch makes the stay that much more pleasant. Of course, the food is exceptional in every way…..presentation…..taste…..and abundance. The dinner alone would cause us to drive the two hours from home. And where would we find a more gorgeous view of Mt. Le Conte but from your dinning room. After our climb of Mt. Le Conte we missed the dinner that evening. We just couldn't get down the mountain soon enough and have time to shower before 7pm……our loss!
Your attention to details is impressive. As a designer myself, I notice everything. That can be a detriment in some cases but not at Buckhorn Inn. I love the art work and the fresh flowers on all the tables…the comfy beds and all the antiques. Your staff is efficient and so thoughtful. We were even given lettuce to feed the swans on one occasion. That didn't seem to make the male swan like us either……but we had fun feeding them.  We look forward to returning and to seeing you again soon.  Thank you for making our stay so enjoyable.  Eileen Weeks and Ray Farris
Terry and I have been coming to Buckhorn Inn for several years now. What began as a gift from my aunt and uncle for the things we take care of for them has turned into a much loved tradition. Most years we only come once, but there are special times we are able to fit in two visits and this birthday year for the Buckhorn has been one of those times. What brings us back to the Buckhorn? The peace and tranquility we find each time we arrive that stays with us for several days after we return home. The beauty of the mountains that the Buckhorn is nestled in and the Buckhorn Inn itself. The friendliness of the staff and owners we meet while we are staying there, though we spend most of our precious time in our cabin or wandering around the grounds and enjoying being together. But most of all we have begun to think of it as our own, which is what it really is for those few days we spend there. My memories of our time spent at  Buckhorn Inn are precious and wonderful. Happy Birthday Buckhorn Inn…and thank you for taking such good care of us while we are there!  Terry and Terri Morgan
We have had the pleasure of two memorable visits to Buckhorn Inn. We spent our 50th Wedding anniversary there and it was wonderful. This year we brought my brother in law and his wife. Once again everything was great. The food was delicious, the staff was very friendly, and the ambiance was most relaxing. My sister in law had never seen a firefly before.  She was amazed to see them.  After fighting the crowds in downtown Gatlinburg, coming back to the Buckhorn Inn is like finding an oasis in the desert.  We are very grateful to the Mellors for maintaining such a beautiful establishment. We look forward to our next visit.  Larry and Juanita Maeyens
Our memories of you and the Buckhorn Inn fill us with the warmth of friends. We meet at the Inn with the Comstocks from Nashville. They are old friends from past living areas over 30 years ago, but we continue to keep our candles of friendship burning brightly at Buckhorn Inn. The Inn is beautiful, the food great, and the staff excellent, but my favorite is John. When my wife and I first saw John with his warm greeting and pot of coffee, we were startled. Honestly, we thought he was a long lost twin of my deceased father … or his ghost! I haven't had an opportunity to sit down and talk with John, but I hope to do so on one our visits. Gene and Sheilah Jenkins
We have been coming to the wonderful Buckhorn Inn often enough now that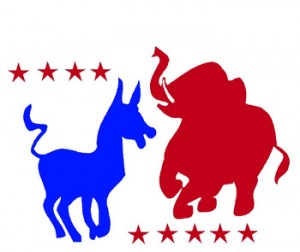 we have finally gotten to discuss politics with the enlightened and world travelled innkeeper, John Mellor. And what an enlightenment it was for us! For example, John's love of President Obama is only exceeded by that of Michelle—and Nancy Pelosi; he has never met a tax he didn't like; the government exists to serve the people, so the bigger the better—bring it on! And he salivates in anticipation of the full implementation of the Affordable Health Care Act. Wow, who knew?
After these comments, a wry smile comes across John's face (suggesting a ruse!), then he turns serious, and we quickly learn what conservatism is all about. He is eloquent, knowledgeable, and unwavering in his true beliefs—somewhere to the right of the Tea Party! Rarely have we heard such strong support of conservative values, but then, given our persuasion on the opposite side of the spectrum, we actually know very few conservatives! A saving grace for John is that he allowed at least his son Bill to be a free thinker, so the two always have plenty about which to disagree.
Discussing politics with John during breakfast is just another one of the many pleasures that await at the Buckhorn Inn. Try it yourself, although you will need to arrive at 8:00 AM sharp.   Carol and Bert Huether
A long time ago, the mid-50s and early 60s – my family would spend spring vacations at the Buckhorn Inn. My parents – Frank and Janet Warren – were old friends of the Bebbs having lived for years in Hinsdale, Illinois. We would make the trip down to Harrodsburg, KY from Hinsdale on the first day, stay at Aspen Hall and eat dinner at the Beaumont Inn. We'd eat breakfast at a diner and get lunch made there for the trip to Norris Dam and then into Gatlinburg. We would also stay in the first or second cottage. The Bebbs had a VW bus and a VW convertible and I would ride with Doug into town to get supplies. I'd play with Molly at their house on the hill around the bend from the Inn. I learned to drive a tractor at Buckhorn Inn! I would occasionally bring a friend with me and my parents would drop us off at one end of town and we would play putt-putt golf, visit every junk store, and get a hamburger somewhere until we reached the other end of town. Pigeon Forge was just a little pottery then. We would play golf at the Gatlinburg CC. What great times we had there.  My mother bought her first Jim Gray sketch at Buckhorn and subsequently acquired several other watercolors. Happy Anniversary Buckhorn Inn!  John W. Warren
My sister just sent me a copy of the September 1, 2013 Mountain Press article about Buckhorn Inn's 75th Anniversary which I found quite interesting. I have known about Buckhorn Inn all of my life, but I have never had the opportunity to visit it.  Allow me to introduce myself. My grandmother, Margery Wyllie Barber, was Edith Bebb's younger sister. I personally knew Walter and Edith (Aunt Peggy to us) Bebb before they passed away in 1967. Therefore, I have a family connection to the original owners of the Inn. My grandmother visited there many times over the years that it was in the Bebb family. My mother and father also visited there several times including one visit in 1941 or 1942. During that visit, my father took a number of color slide photos in and around the Inn which brings me to the point of my note. 
If you are interested, I would be willing to provide you with copies of the photos that I have for your enjoyment, historic interest or use with the Inn. My only proviso would be that if you use any of the photos publicly, that you include credit for the photo to my father, H. W. Barber. Because they were taken a year or two before I was born and I have never been there, I do not know the specific locations for some of the photos. Possibly you or your local connections could identify them. There are a total of 32 photos. Unfortunately, over time, the colors in his photos have deteriorated, but the images are still clear.  William R. Barber
The Woosley Family first came to know Buckhorn Inn last December 2012 through Gamble Holdings who provided a company trip for all the managers.  Kenneth and I fell in love immediately with Buckhorn Inn. The accommodations and meals far exceeded our expectations.  The atmosphere was so relaxed.  We knew we would be back and have to bring the family.  So this September we planned a trip and Kenneth and I paid for all the grown kids accommodations as part of their Christmas 2013.  Upon arriving it did not take one day for the kids to say they were coming back on their wedding anniversary to enjoy the Buckhorn Inn.  We loved the weather, the warmth of the staff and the ease of moving about on the property.  The meals were exceptional.  My seven year old grandson loved the Webb Mountain House and cried on our last night because he did not want to leave.  I am sure we will be returning to make more memories and enjoy time together as a family.  Thank you,  Buckhorn Inn,  for your hospitality.  Lori Woosley
This was our first visit to Buckhorn Inn, but it won't be our last.  Donna an Jimmy Davenport
October 29, 2013
     The Buckhorn Inn was begun as America' Great Depression was ending and as ominous war clouds gathered over Europe.    Two young men, who were born at the turn of the twentieth century, one in Alabama, and the other in Virginia, would be drawn together in World War II. One was my father, Ewal Erman Garrett and the other was Clyde Gorum of Mobile. In 2001 when my husband and I began research on our book, Twenty-ninth Infantry The Blue and Gray Division of WWII, Clyde contacted me by telephone. He said he was with my father the night he was killed, December 3, 1944, and a flood of emotions flowed through me. Clyde expained both were in the 116th Infantry Regiment and that they were "foxhole buddies." Thus began a very close and long term relationship with Clyde, and his wife Mary, who had retired from their landscape and nursery business in Shreveport, LA.
     My husband retired from the National Park Service and his last assignment was at Great Smoky Mountains National Park. Since both Clyde and Mary were interested in  plants, we mentioned the annual wildflower pilgrimage held by the park and encouraged them to attend with us. They agreed. Since we had once stayed at the Buckhorn during the wildflower pilgrimage the inn was a natural place for lodging. We stayed in the wonderfully appointed "Webb Mountain House." It was perfect for us, with bedrooms separated by the open combination kitchen/living room. The huge living room window spanned the wall and provided a view that made us feel a part of the glorious mixed hardwood forest we were viewing. Much of our time was spend visiting which we now often reminiscence about. Our conversation at times was interrupted with the antics of squirrels and our trying to identify the frequent birds landing on nearby branches. It was so relaxing we could have stayed forever. Being in the landscape and nursery business, Clyde and Mary continued to marvel at how beautiful our surroundings were and identified for us the many plants used by Buckhorn Inn in landscaping. The Catawba Rhododendron beside the house was in early bloom and every time we went out Mary would photograph them. We all slept well and always looked forward to the delicious gourmet breakfast provided by the Buckhorn. It was one of the highlights of the trip for both Clyde and my husband Gene. The relationship between Clyde and his last days with my father was shared against the peace and serenity of the beautiful Buckhorn Inn. The staff, as always, was wonderfully accommodating. It is a place where our relationship with our friends was strengthened and now is even more memorable with this special tie to the Buckhorn Inn which we will always cherish. We come back to the Buckhorn every chance we get to renew memories and relax.  Joyce Garrett Cox