January 25, 2021
It may be January, but the garden catalogs are full of photos of ripe, lush, delicious tomatoes!  We are deciding which varieties to grow in the Buckhorn Inn gardens this summer.  Looking at all the types of tomatoes got us wondering about this garden staple.
Tomatoes are actually the berries of the plant Solanum lycopersicum.  Food historians believe that the species originated in South and Central America.  Tomatoes were first cultivated for food by the Aztecs of Mexico.  The Spanish encountered the tomato  when they conquered the Aztec Empire.  They brought the tomato back to Europe.  The popularity of the fruit spread to European colonies worldwide in the 16th century.
The tomato is very versatile and can be used raw in salads or cooked for sauces and soups.  Tomato juice is a popular beverage.  Even green tomatoes are delicious breaded and fried.  They are also used in salsa and gazpacho.  I recently learned that tomatoes are best kept unwashed at room temperature.  In the refrigerator they quickly lose their flavor.
Tomatoes Are Health Powerhouses
A tomato is only 22 calories, but is full of nutrients with a variety of health benefits.  One tomato provides about 40% of the recommended daily amount of vitamin C.  It also supplies vitamin A, vitamin K, and potassium.  Their red color comes from the antioxidant lycopene which is tied to heart benefits and may support vision.  And finally the liquid and fiber in the tomato may boost digestive health.  http://www.health.com
New Jersey selected the tomato as their state vegetable.  Arkansas was more determined to be botanically correct and named the South Arkansas Vine Ripe Pink Tomato both its state fruit and its state vegetable!  Tomato juice became the official drink of Ohio in 1965.  
Be sure to watch this space for the final decisions on what we will be planting for the Buckhorn Inn kitchen!
January 16, 2021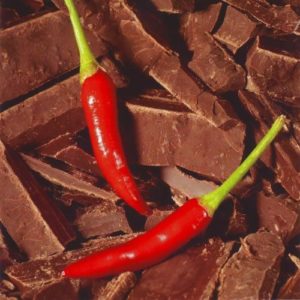 Jack and I met the summer of 1981 in Chicago. We both had just graduated from college and moved to the big city—he from Kentucky and me from Indiana. We were working hard at our first post-college jobs and trying to manage rent and all the other expenses that come with being on your own. Needless to say, we were pinching pennies. When it came to celebrating holidays and special occasions, we started going to Mexican restaurants. The atmosphere was festive, the food delicious and reasonably priced, and dinners came with complimentary chips and salsa—perfect for us. So perfect that all these years later we still celebrate with Mexican food.
This recipe is one of my favorites. The chocolate adds color, the cinnamon and sugar add sweetness, and the chili powder adds spice. This recipe is from "Easy Entertaining" by Marlene Sorosky and I made it for one of the first meals that John and Lee had at our house. That was a special occasion indeed! I often pair this dish with a lush, red Zinfandel. The warm spice, dark berry, vanilla and chocolate notes in the wine go nicely with the dark, bold flavors of the chili. On the other hand, Jack recommends you enjoy it with a bottle of cold Dos Equis or your favorite Mexican beer.
1 ½ cups dried black beans
2 onions, finely chopped
6 cloves garlic, minced
4 pounds pork butt, cut into ½ inch cubes
1/3 cup chili powder
1 tablespoon plus one teaspoon ground cumin
1 tablespoon plus one teaspoon dried oregano
1 teaspoon cinnamon
1 tablespoon sugar
½ teaspoon cayenne pepper
1 teaspoon salt
1 14 ½ ounce can whole tomatoes
4 ½ cups chicken broth
1 ½ ounces unsweetened chocolate
2 corn tortillas torn into small pieces
Rinse beans and place in a large saucepan. Cover with water and bring to a boil. Cook for one minute then drain. Add fresh water to cover by three inches, bring to a boil, reduce heat to low and simmer, partially covered about 45 minutes. Drain and set aside to cool. (Or, use two 16-ounce cans of black beans, rinsed and drained.)
Heat 2 tablespoons of oil. Add onions and garlic and cook until soft, about 20 minutes. Remove from pan and set aside. Heat 2 tablespoons of oil and add the pork. Cook over moderate heat for about 20 minutes or until pink is gone. Pour off drippings. Stir in onions, spices, sugar and salt. Cook 5 minutes. Break up tomatoes and add them with their juice. Add chicken broth and chocolate. Bring to a boil, lower heat and simmer, uncovered, for an hour and a half. Add beans and continue to simmer for 30 minutes until pork is tender and chili has thickened. Stir in tortillas and simmer until they have dissolved.
Offer chopped tomatoes, chopped fresh cilantro, finely chopped onion, and/or sour cream as condiments. Serves 8.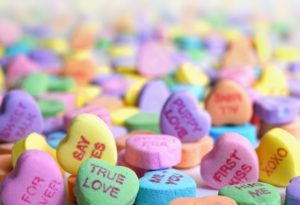 As February 14 nears, we are bombarded with advertisements for chocolates, flowers, wine, and romantic movies. Everything is decorated with hearts, lace, and a baby boy who flies around shooting arrows. What is up with that?
According to myth, Cupid is the ancient god of love. The son of Venus and Mercury, he is often pictured as a winged infant carrying a bow and a quiver of arrows. The wounds from his arrows inspire love in everyone they hit. Interestingly, he is sometimes depicted in art wearing armor—perhaps to symbolize the invincibility of love. Or perhaps to show parallels between warfare and romance!
Cupid generally brings happiness to couples, whether they be gods or mortals. He is sometimes mischievous in his matchmaking, though. Venus is often the instigator of his mischief. In one instance, she tried to use Cupid in seeking revenge on the mortal Psyche. Her plan backfired, however, when Cupid fell in love with Psyche and made her his immortal wife.
In modern culture, we see Cupid as a god who uses his power for good and not for ill. Some of us need a little push to make the first move in expressing our love—and Cupid is there to help us.
If you are looking for a way to express your true love, how about a Buckhorn Inn gift certificate? Your sweetie would love a romantic dinner, or perhaps a get-away complete with flowers, chocolate-covered strawberries, and sparkling wine!