Blog
An Excellent Winter Recipe: Pork Mole Chili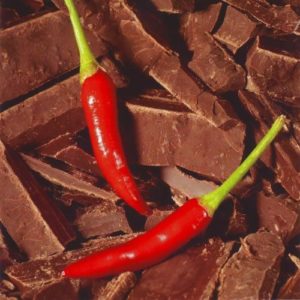 Jack and I met the summer of 1981 in Chicago. We both had just graduated from college and moved to the big city—he from Kentucky and me from Indiana. We were working hard at our first post-college jobs and trying to manage rent and all the other expenses that come with being on your own. Needless to say, we were pinching pennies. When it came to celebrating holidays and special occasions, we started going to Mexican restaurants. The atmosphere was festive, the food delicious and reasonably priced, and dinners came with complimentary chips and salsa—perfect for us. So perfect that all these years later we still celebrate with Mexican food.
This recipe is one of my favorites. The chocolate adds color, the cinnamon and sugar add sweetness, and the chili powder adds spice. This recipe is from "Easy Entertaining" by Marlene Sorosky and I made it for one of the first meals that John and Lee had at our house. That was a special occasion indeed! I often pair this dish with a lush, red Zinfandel. The warm spice, dark berry, vanilla and chocolate notes in the wine go nicely with the dark, bold flavors of the chili. On the other hand, Jack recommends you enjoy it with a bottle of cold Dos Equis or your favorite Mexican beer.
1 ½ cups dried black beans
2 onions, finely chopped
6 cloves garlic, minced
4 pounds pork butt, cut into ½ inch cubes
1/3 cup chili powder
1 tablespoon plus one teaspoon ground cumin
1 tablespoon plus one teaspoon dried oregano
1 teaspoon cinnamon
1 tablespoon sugar
½ teaspoon cayenne pepper
1 teaspoon salt
1 14 ½ ounce can whole tomatoes
4 ½ cups chicken broth
1 ½ ounces unsweetened chocolate
2 corn tortillas torn into small pieces
Rinse beans and place in a large saucepan. Cover with water and bring to a boil. Cook for one minute then drain. Add fresh water to cover by three inches, bring to a boil, reduce heat to low and simmer, partially covered about 45 minutes. Drain and set aside to cool. (Or, use two 16-ounce cans of black beans, rinsed and drained.)
Heat 2 tablespoons of oil. Add onions and garlic and cook until soft, about 20 minutes. Remove from pan and set aside. Heat 2 tablespoons of oil and add the pork. Cook over moderate heat for about 20 minutes or until pink is gone. Pour off drippings. Stir in onions, spices, sugar and salt. Cook 5 minutes. Break up tomatoes and add them with their juice. Add chicken broth and chocolate. Bring to a boil, lower heat and simmer, uncovered, for an hour and a half. Add beans and continue to simmer for 30 minutes until pork is tender and chili has thickened. Stir in tortillas and simmer until they have dissolved.
Offer chopped tomatoes, chopped fresh cilantro, finely chopped onion, and/or sour cream as condiments. Serves 8.