Blog




November 8, 2013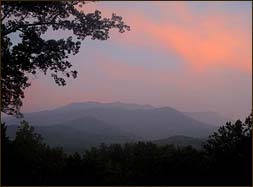 There is a saying that coming to the mountains is like coming home.  It should say coming to Buckhorn Inn in the mountains is like coming home!  We've been coming here with dear friends almost 15 of  Buckhorn's 75 years.  We've seen the Premier Rooms built, the library added, the office "moved" and John and Lee's apartment promoted to Premier 4.  Yet….the hospitality and ambience remain beyond improvement.  What wonderful memories, especially since some of our dear friends are no longer with us.  We've proudly worn our UT orange, enjoyed pizza in the library after games, played dulcimer on a premier room balcony–even though I had to walk down two flights to retrieve a pick, rushed a family member to the hospital in an ambulance Lee wisely called, and even ordered 1/2 of each breakfast choice when I just could not decide!  Coming home to Buckhorn Is an annual event we always eagerly anticipate.  Georgia Hobb
October 30, 2013
Terry and I have been coming to Buckhorn Inn for several years now. What began as a gift from my aunt and uncle for the things we take care of for them has turned into a much loved tradition. Most years we only come once, but there are special times we are able to fit in two visits and this birthday year for the Buckhorn has been one of those times. What brings us back to the Buckhorn? The peace and tranquility we find each time we arrive that stays with us for several days after we return home. The beauty of the mountains that the Buckhorn is nestled in and the Buckhorn Inn itself. The friendliness of the staff and owners we meet while we are staying there, though we spend most of our precious time in our cabin or wandering around the grounds and enjoying being together. But most of all we have begun to think of it as our own, which is what it really is for those few days we spend there. My memories of our time spent at  Buckhorn Inn are precious and wonderful. Happy Birthday Buckhorn Inn…and thank you for taking such good care of us while we are there!  Terry and Terri Morgan
A long time ago, the mid-50s and early 60s – my family would spend spring vacations at the Buckhorn Inn. My parents – Frank and Janet Warren – were old friends of the Bebbs having lived for years in Hinsdale, Illinois. We would make the trip down to Harrodsburg, KY from Hinsdale on the first day, stay at Aspen Hall and eat dinner at the Beaumont Inn. We'd eat breakfast at a diner and get lunch made there for the trip to Norris Dam and then into Gatlinburg. We would also stay in the first or second cottage. The Bebbs had a VW bus and a VW convertible and I would ride with Doug into town to get supplies. I'd play with Molly at their house on the hill around the bend from the Inn. I learned to drive a tractor at Buckhorn Inn! I would occasionally bring a friend with me and my parents would drop us off at one end of town and we would play putt-putt golf, visit every junk store, and get a hamburger somewhere until we reached the other end of town. Pigeon Forge was just a little pottery then. We would play golf at the Gatlinburg CC. What great times we had there.  My mother bought her first Jim Gray sketch at Buckhorn and subsequently acquired several other watercolors. Happy Anniversary Buckhorn Inn!  John W. Warren
September 3, 2013
Honey-gold shafts of light through the trees
The mountains in summer like waves of green velvet
The smells of breakfast cooking if you're lucky enough to stay in a traditional room
Sunsets over Mt Le Conte
Stargazing on the front lawn
The Pittman Center Heritage Days Festival in September
Rhododendrons in full bloom in June
Hoar frost that sparkles like diamonds
Savoring sweet treats in the sitting room in the afternoon
Visiting with other guests about hikes and good books.
Staff who welcome and treat you like family
Malinda Lewis, September 2013 
July 17, 2013
At the time of my first visit to Buckhorn in 1947, my mother was the secretary at the Knoxville Tourist Bureau and had gotten to know Mrs. Audrey Bebb (mistress of Buckhorn at that time). We were comparative newcomers, fresh from the cornfields of Iowa. We had fallen in love with the Tennessee mountains, lakes and people (I married a girl from Jefferson County in 1951 and we have been coming to Buckhorn Inn ever since, just recently to celebrate our 62 wedding anniversary).
At the time of that first visit, I was visiting my folks from Iowa State College and going up to the mountains for the Buckhorn Lunch (yes, they served lunch in those days) was a special treat for me. We sat outside with Mrs. Bebb after lunch and talked—mostly about the mountains. At one point, Mrs. Bebb said that she always enjoyed just sitting and watching the mountains, "always the same but always changing." That comment has remained in my mind all these years because I received a letter from mother several months later with the news that Mrs. Bebb had died from brain cancer. She had gradually lost her sight beginning several months before our visit. Bob Holsaple, Knoxville TN
July 5, 2013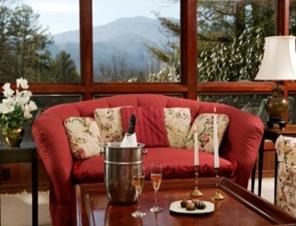 During our three previous visits at the Buckhorn Inn, we stayed in the beautiful, premium rooms at the inn. On this fourth visit and during the 75th anniversary of the inn, we stayed at Bebb House. Bebb House is the former home of Buckhorn Inn founder Douglas Bebb and his wife June. Turns out that Doug and June are still there; something to keep in mind for anyone who decides to book the house in the future. They can be found resting just outside the back door in a cool, shaded area. Although the house has been renovated and decorated much the same as the rooms in the inn, many original features remain. In the kitchen an old, built in oven is embedded in the back side of the rock fireplace, push button controls for what must have once been a state of the art range remain in the wall, and the cabinets are surely original to the house. The wall paneling was cut in Doug Bebb's own sawmill. I guess only so much can be changed when the original owners are still hanging around. The house was designed and the site chosen by Doug Bebb. And the very best part of Bebb House is the breathtaking view of the mountains from the covered patio in the back of the house.

More than any other part of the property, at Bebb House you can really sense the presence of Buckhorn's former innkeeper. Partly because he never left, and partly because of knowing that his hands were laid to so much of the creation of his home. At night it occurs to us that a long, wide hallway running along the bedrooms presents a perfect pathway for the passage of ethereal spirits displeased with our invasion. But no haunting occurs during our stay. As ever, the Bebbs are still the perfect hosts. The Beaubiens

Memories of Buckhorn Inn are always happy thoughts for us. God created a beautiful setting here with awesome mountains, trees, flowers and cheerful birds. It may just be heaven on earth!  For sure, Buckhorn has been and will continue to be a place for us to come to clear our minds and rest our bones. Thank you and all the precious people who keep the inn for caring and offering hospitality to all for the last seventy-five years. Joyfully, Nancy and Sherold