Blog




February 12, 2023
This relatively 1.9 mile, flat hiking trail starts at the Sugarlands Visitors Center. It  runs through forest along the West Prong of the Little Pigeon River. There are beautiful views of the river and  the foundations and chimneys of several old homesites. Keep in mind that the Gatlinburg Trail is the only one which allows dogs.
Located in Greenbrier Cove, Porter's Creek is an easy and-and-out hike from Buckhorn Inn  You can experience some of the natural communities in the cove hardwood forest. This hiking trail also contains the remnants of settlers who lived in the area before the Great Smoky Mountains National Park was established. There was once a community of about 500 people in Porters Flat and Greenbrier Cove, so keep your eyes peeled for evidence of old homesteads, stone fences, stairs and the Ownby cemetery.  This trail is particularly beautiful in the Spring Wildflower Season beginning in late March through early May.
If you love waterfalls, enjoy an easy hike along the Cataract Falls Trail.  It is only 3/4 miles roundtrip, making it a perfect destination for families with kids and other family members who have trouble walking long distances! The trail starts off paved but quickly turns to gravel as it travels over Fighting Creek on several well maintained bridges and through a stunning canopy of trees. While the highlight of the Cataract Falls Trail is naturally the 25 foot waterfall, you will also find a unique photo opportunity in an old hollowed out tree!
When you want to combine one of the easy hikes in the Smoky Mountains with one of the most enchanting hikes, be sure to check out the Grotto Falls Trail.  While this is an easy hike, note that you should allow up to 3 hours to complete the roundtrip trail that is 2.6 miles in length. Walk through an overgrown forest before experiencing the gorgeous sight of Grotto Falls.  This is one of the only waterfalls that you can actually walk behind, offering one of the most amazing views and photo opportunities in the national park.
February 10, 2023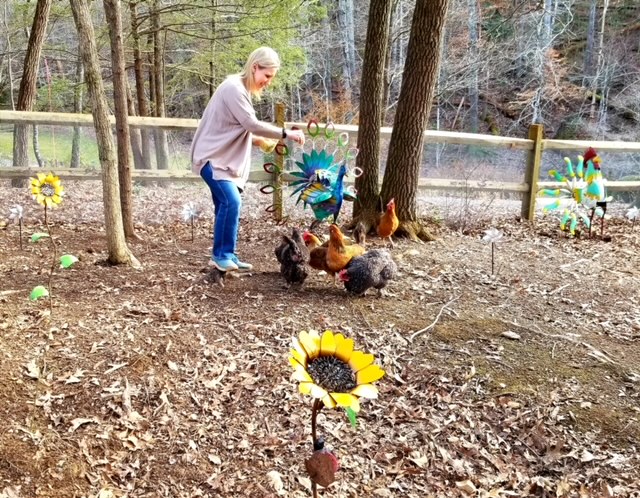 We recently had a surprise cold snap.  Of course Jack was out of town, so keeping the chickens healthy and happy was my  responsibility!
The first frigid morning, the sliding door to their coop was frozen shut. Eddie
kindly came to our rescue and opened the door and broke the ice on the chickens' drinking
water. However they remained huddled in their little coop, not braving the cold even for a drink
of water. So of course, I served them their breakfast food and beverage "in bed"!  The chickens have come to expect pampering, I guess.
Eddie, with assistance from Jonathan, built a fenced in play yard for their free-range time. They free-range in the late afternoon as the conventional local wisdom is that day predators will be sated by then and night predators will not have started hunting yet.  We found a place in Cosby, TN, with metal art, so promptly brought home pieces of yard art to decorate their space.
The chickens eat a well-balanced organic layer feed. Their daily treat is a mix of protein flakes, dried mango, dried peas, and pumpkin seeds. It looks pretty tasty! I also grow them a variety of sprouts—clover, alfalfa, mung bean, barley, and rye. If I don't sprinkle out the sprouts fast enough, Benedict leaps up to take them from my hand.
Benedict is not our only athletic chicken. I thought Hazel would be too plump to fly,
but I was wrong. We had a guest arrive in a helicopter this summer and the chickens got quite
excited. When I came that evening to feed them, Hazel surprised me from behind, leapt onto
my shoulder, and proceeded to beat me about the head with her wings. The harder I tried to
brush her off, the more she dug her feet into my shoulder. When I finally pried her off, she looked at me as though she were saying "You need to take better care of us!"
Hmmm, so far two of our chickens can do tricks. If I get Poached, Scrambled, Quiche, and Omelet to follow suit, we could have a vaudeville act! 
We have learned that happy chickens reward us with lovely eggs! They c0me in dark chocolate brown, brown spotted, blue, green, and pink. They have brilliant orange yolks and are
delicious. I hope you will have a chance to try some when you are here.
September 29, 2022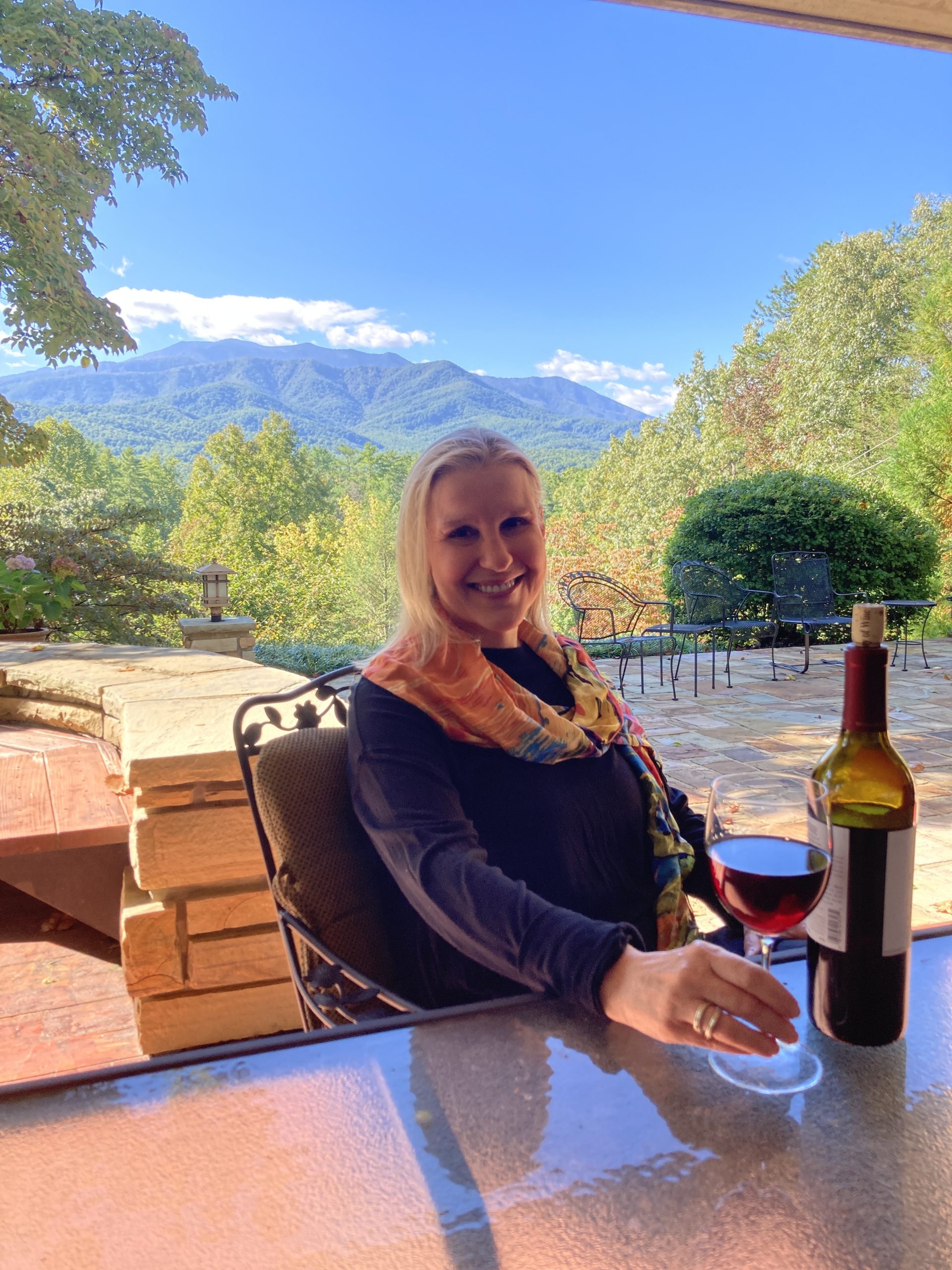 Join Innkeeper and Wine Afficianado Sharon Mellor for a wine tasting experience on select Wednesday afternoons in October.
from 4:00 to 6:00 pm.
Wednesday, October 5, Wednesday, October 12, Wednesday, October 26
Sharon will share tasting tips from her WSET certification program for two Chardonnays and two Cabernet Sauvignons. Chef Karen Valentine will provide four types of delicious gourmet appetizers and artisinal cheeses paired with each wine.
For casual and experienced wine fans, this event is perfect for expanding your palate and making new friends. The tasting will be held on the veranda of Buckhorn House so guests can enjoy the spectacular views of the mountains. Buckhorn House is a pleasant five minute walk from the Inn; however, ample parking is available.  The inclement weather location will be the Buckhorn Inn Sitting Room.
Reservations are required and space is limited to 12 guests with a minimum of 6 guests required. The cost is $65 per person. To reserve, email us or telephone 865 436 4668.  Reservations must be received 24 hours in advance and there is a 24 hour cancellation required.
September 6, 2022
Parking Fees in GSMNP in 2023
The Great Smoky Mountains National Park (GSMNP) has announced its new Park It Forward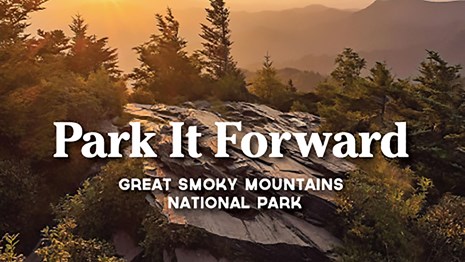 Program. The program includes the implementation of parking fees to support Park
operations. Nearly 4,000 Park visitors responded when asked for feedback on the proposed
plan. More than 85% of the comments received were in support of the plan and provided
ideas directed at making it as effective and practical as possible.
Park Superintendent Cassius Cash shares the weight he carries: "The duty to ensure this park
is protected, to ensure our employees have the tools to do their jobs, and to ensure the visitors
of tomorrow have this sacred place to explore. With Park It Forward, we will accomplish these
important goals."
Here are the basics of the program, which will be effective on March 1, 2023:
1. Vehicle parking tags will be required for any vehicles parking in the park.
2. Display of physical parking tags in each vehicle will be required.
3. Three tags will be available: Daily—$5, Up to 7 days—$15, Annual—$40.
4. Parking tags will not be refundable, transferable, or upgradable.
5. Each tag will be valid for a single vehicle.
6. Parking tags will be available for purchase both online and onsite.
7. Tags will NOT be required for motorists who pass through the area or who park for less
than 15 minutes.
8. Parking tags will not be location-specific. A parking tag will be required to park in any
designated parking spot within park boundaries.
Watch this newsletter for any updates to the implementation of this new program.
February 5, 2022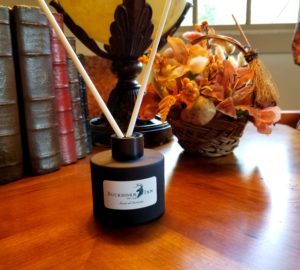 Scents have a stronger link to memory and emotion than information garnered by our other senses.  The scientific explanation is that when you hear, touch, taste, or see something, the information heads to your thalamus, your brain's relay station. Then that information is sent to
other areas of the brain. But when you smell something, the information bypasses the
thalamus and goes directly to the olfactory bulb. This may explain why a particular scent can
trigger a detailed memory or an intense emotion.
We learned this in working with an artisan to create a unique aroma for Buckhorn Inn—the
Scent of Serenity. We began by identifying all the aromas that you have told us you associate with a vacation here: robust coffee, fresh herbs on the veranda, clean sheets, morning rain,
roses, fresh-baked bread, antique wood, pine, warm maple syrup, books, wood smoke, and
others. We described a stay here in the words you have given us: relaxing, serene, cozy, quiet.
Our scent expert used this information to develop six unique scents.
Lee and Sharon each spent a week trying out the scents and both fell in love with the same one. We have dubbed it Scent of Serenity.   
The Scent of Serenity is subtle, warm and cozy, and has hints of smoke, spice, antique wood,
and greenery. We are using diffusers with the Scent of Serenity in the entry way, library, sitting
room, office, and the premier suites.
If you would like to take an air of serenity home with you, diffusers of this custom scent and
reeds are available in our gift shop for $27. It is our hope that when you catch a subtle hint of
the Scent of Serenity, it will trigger happy memories of your stays with us.
January 25, 2021
It may be January, but the garden catalogs are full of photos of ripe, lush, delicious tomatoes!  We are deciding which varieties to grow in the Buckhorn Inn gardens this summer.  Looking at all the types of tomatoes got us wondering about this garden staple.
Tomatoes are actually the berries of the plant Solanum lycopersicum.  Food historians believe that the species originated in South and Central America.  Tomatoes were first cultivated for food by the Aztecs of Mexico.  The Spanish encountered the tomato  when they conquered the Aztec Empire.  They brought the tomato back to Europe.  The popularity of the fruit spread to European colonies worldwide in the 16th century.
The tomato is very versatile and can be used raw in salads or cooked for sauces and soups.  Tomato juice is a popular beverage.  Even green tomatoes are delicious breaded and fried.  They are also used in salsa and gazpacho.  I recently learned that tomatoes are best kept unwashed at room temperature.  In the refrigerator they quickly lose their flavor.
Tomatoes Are Health Powerhouses
A tomato is only 22 calories, but is full of nutrients with a variety of health benefits.  One tomato provides about 40% of the recommended daily amount of vitamin C.  It also supplies vitamin A, vitamin K, and potassium.  Their red color comes from the antioxidant lycopene which is tied to heart benefits and may support vision.  And finally the liquid and fiber in the tomato may boost digestive health.  http://www.health.com
New Jersey selected the tomato as their state vegetable.  Arkansas was more determined to be botanically correct and named the South Arkansas Vine Ripe Pink Tomato both its state fruit and its state vegetable!  Tomato juice became the official drink of Ohio in 1965.  
Be sure to watch this space for the final decisions on what we will be planting for the Buckhorn Inn kitchen!
January 16, 2021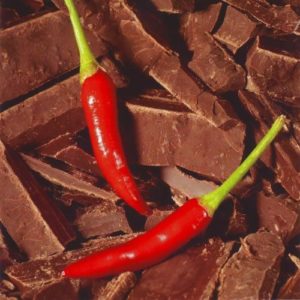 Jack and I met the summer of 1981 in Chicago. We both had just graduated from college and moved to the big city—he from Kentucky and me from Indiana. We were working hard at our first post-college jobs and trying to manage rent and all the other expenses that come with being on your own. Needless to say, we were pinching pennies. When it came to celebrating holidays and special occasions, we started going to Mexican restaurants. The atmosphere was festive, the food delicious and reasonably priced, and dinners came with complimentary chips and salsa—perfect for us. So perfect that all these years later we still celebrate with Mexican food.
This recipe is one of my favorites. The chocolate adds color, the cinnamon and sugar add sweetness, and the chili powder adds spice. This recipe is from "Easy Entertaining" by Marlene Sorosky and I made it for one of the first meals that John and Lee had at our house. That was a special occasion indeed! I often pair this dish with a lush, red Zinfandel. The warm spice, dark berry, vanilla and chocolate notes in the wine go nicely with the dark, bold flavors of the chili. On the other hand, Jack recommends you enjoy it with a bottle of cold Dos Equis or your favorite Mexican beer.
1 ½ cups dried black beans
2 onions, finely chopped
6 cloves garlic, minced
4 pounds pork butt, cut into ½ inch cubes
1/3 cup chili powder
1 tablespoon plus one teaspoon ground cumin
1 tablespoon plus one teaspoon dried oregano
1 teaspoon cinnamon
1 tablespoon sugar
½ teaspoon cayenne pepper
1 teaspoon salt
1 14 ½ ounce can whole tomatoes
4 ½ cups chicken broth
1 ½ ounces unsweetened chocolate
2 corn tortillas torn into small pieces
Rinse beans and place in a large saucepan. Cover with water and bring to a boil. Cook for one minute then drain. Add fresh water to cover by three inches, bring to a boil, reduce heat to low and simmer, partially covered about 45 minutes. Drain and set aside to cool. (Or, use two 16-ounce cans of black beans, rinsed and drained.)
Heat 2 tablespoons of oil. Add onions and garlic and cook until soft, about 20 minutes. Remove from pan and set aside. Heat 2 tablespoons of oil and add the pork. Cook over moderate heat for about 20 minutes or until pink is gone. Pour off drippings. Stir in onions, spices, sugar and salt. Cook 5 minutes. Break up tomatoes and add them with their juice. Add chicken broth and chocolate. Bring to a boil, lower heat and simmer, uncovered, for an hour and a half. Add beans and continue to simmer for 30 minutes until pork is tender and chili has thickened. Stir in tortillas and simmer until they have dissolved.
Offer chopped tomatoes, chopped fresh cilantro, finely chopped onion, and/or sour cream as condiments. Serves 8.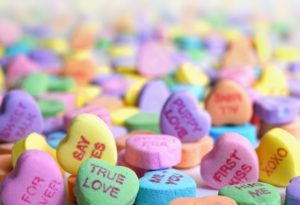 As February 14 nears, we are bombarded with advertisements for chocolates, flowers, wine, and romantic movies. Everything is decorated with hearts, lace, and a baby boy who flies around shooting arrows. What is up with that?
According to myth, Cupid is the ancient god of love. The son of Venus and Mercury, he is often pictured as a winged infant carrying a bow and a quiver of arrows. The wounds from his arrows inspire love in everyone they hit. Interestingly, he is sometimes depicted in art wearing armor—perhaps to symbolize the invincibility of love. Or perhaps to show parallels between warfare and romance!
Cupid generally brings happiness to couples, whether they be gods or mortals. He is sometimes mischievous in his matchmaking, though. Venus is often the instigator of his mischief. In one instance, she tried to use Cupid in seeking revenge on the mortal Psyche. Her plan backfired, however, when Cupid fell in love with Psyche and made her his immortal wife.
In modern culture, we see Cupid as a god who uses his power for good and not for ill. Some of us need a little push to make the first move in expressing our love—and Cupid is there to help us.
If you are looking for a way to express your true love, how about a Buckhorn Inn gift certificate? Your sweetie would love a romantic dinner, or perhaps a get-away complete with flowers, chocolate-covered strawberries, and sparkling wine!
November 9, 2020
For those who plan to travel to Buckhorn Inn in the next few months, I wanted to remind you of the precautions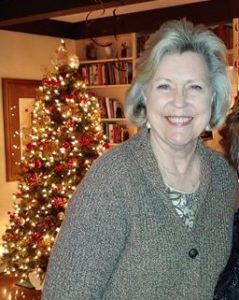 we are taking ensure your health as well as that of our staff.
All hard and soft furnishings in your room are thoroughly cleaned and sanitized before your arrival. We have removed bedspreads, decorative quilts, and decorative throw pillows to speed our sanitation procedures. You may use contactless check-in. Upon your arrival, we will not enter your room again until after you check out. We have eliminated our hard copy guest directories in favor of an electronic version which you may download to your phone. We will send the link to it in your confirmation letter. In it you will find much information—including the location of the supply of extra towels and toiletries stored for you in your room!
All staff members undergo a temperature and health check daily and must stay home if they, or a family member, are ill. Our housekeeping members are masked and gloved when they are preparing your room for you. All kitchen and serving staff are masked and gloved as well. We reservation times for breakfast, so that we can manage social distancing in our dining room in the morning. We utilize the library for additional dining space. We clean and sanitize dining tables, chairs, and condiment holders between guests. We keep as much air flowing in the dining room as possible. We have limited the number of dinner reservations we will accept so that we can maintain social distancing in the evenings as well. Our afternoon treats are individually wrapped in plastic. Our team sanitizes all high-touch surfaces in the Inn's public areas several times each day. We have large, well-marked dispensers for hand sanitizers in several places in the public areas.
If we have an active credit card for you on file, we will email you the final bill the day before you check out. Then you will not need to come into the office as you can simply leave your key in your room. If you do enter the office or gift shop, you will see that we have installed a large plexiglass window as a barrier between our guests and the office staff.
Thank you for placing your trust in us.  We look forward to seeing you soon.  And we look forward to a future where we can greet you with a hug and you can see our welcoming smiles!
September 21, 2020
Are you familiar with petrichor?  This is the earthy smell produced when rain falls.  The word comes from the Greek petros, stone, and ichor, the fluid that flows in the veins of the gods in mythology.  Scientists speculate that humans enjoy the scent of rain because our ancestors may have relied on rainy weather for survival.
Surprisingly, this common smell was not given a name until a scientific paper written in 1964.  The authors described how the smell comes from an oil exuded by plants in dry weather.  The oil is absorbed by clay-based soils.  When it rains, the oil is released into the air along with another compound, geosmin.  Geosmin is a byproduct of certain bacteria and is released from wet soil.
Scientists from the Massachusetts Institute of Technology used high-speed cameras in 2015 to record how smells move in the air.  When a raindrop lands on a porous surface, air from the pores forms small bubbles.  These bubbles release aerosols which carry the scent.  Petrichor is more common after light rains because raindrops that move more slowly produce more aerosols.  
If the rain is a heavy one, the scent can travel downwind and alert people that rain is on the way.  Farmers often talk about smelling rain in the air.
Petrichor Described Poetically
Scientist T.L. Phipson described the phenomena in somewhat more poetic terms in 1865.  His notes refer to "the fragrance emitted by thousands of flowers . . ." that were "absorbed into the pores of the soil" and only released by rain.   
This poem by Jayde E is entitled Petrichor.
The scent of rain on dry Earth.
Churning like seawater on a stormy day.
Rising from the ground like bluebonnets on a summer evening.
Petrichor is a delight.
Wafting about beneath soft grey skies.
Traveling on the cool breeze like fairy dust in the wind.
The scent of nature.  
As fresh and invigorating as a thing could be.
A promise of new life.
A promise of new days.
A promise of more nights.  http://www.powerpoetry.org
The next time you visit Buckhorn Inn on a rainy day, we invite you to sit on one of the porches and savor the petrichor!