Blog




October 24, 2019
When someone mentions "Thanksgiving" we may think offeasting, football games, and four-day weekends.  The first Thanksgiving was celebrated in 1621 by the surviving Mayflower Pilgrims and Native Americans.  George Washington proclaimed Thanksgiving a national holiday in 1789, Abraham Lincoln set it on the last Thursday in November in 1863, and Congress sanctioned it as a legal holiday in 1941.
What began as a simple expression of gratitude for survival has become deeply rooted in American tradition.  Generations of families have added their customs to this annual celebration.  At Buckhorn Inn it is a time to reflect on the family, friends, and good fortune that permeate our lives.  Our traditions include a devilishly hard Thanksgiving quiz and a bountiful buffet!  Here are some of the delicious dishes guests will find on the menu this year:
COLD PLATTERS
Smoked Salmon
Chilled Shrimp with Cocktail Sauce
Housemade Cranberry Sauce with Orange Essence
Devilled Eggs
Cheese and Fruit
Assorted Pickled Vegetables
Black Eye Pea Salad
HOT DISHES
Roast Turkey with Giblet Gravy
Baked Southern Ham with Pineapple Raisin Sauce
Cornbread Dressing
Mashed Yukon Gold Potatoes
Green Beans Almandine
Butternut Squash Casserole
Maple Glazed Yams
Roasted Brussel Sprouts
DESSERTS
Traditional Pumpkin Pie
Fudge Truffle Pecan Tart
Sweet Potato Cheesecake
Maple Pecan Pie with Bourbon Whipped Cream
Raspberry, Pear, Almond Tart
October 22, 2019
Unless you have been in the Smokies before in the late fall or winter, you might not realize that it is the perfect time to experience our amazing views.  Winter temperatures are more than 50 degrees on about half of the winter days.  Moderate temperatures coupled with low humidity make for comfortable hiking conditions!  Higher elevations are cooler, so dress accordingly.  Be sure to dress in layers and remember to wear a hat.  A thermos of hot cocoa is a treat during your rest breaks on the trail!  Grab a couple of sack lunches from the Inn and have a winter picnic while admiring the scenery.   
Here are some of our favorite winter hikes:
The Laurel Falls trail is 2.6 miles round-trip and paved.  If you are lucky enough to be here during a stretch of below-freezing weather, the frozen water fall creates a crystal castle.  The freezing and thawing from warm days and cooler nights makes an incredible display of dripping ice. 
The hike to Andrews Bald is about 1.8 miles with 1,200 feet in elevation changes.  The hike starts at the Clingmans Dome parking lot.  When you get to the Andrews Bald area, you will have the chance to take in the winter views of the snowcapped peaks of the Smoky Mountains.
Sparkling icicle formations can be seen at the Alum Cave Bluffs, about 2.3 miles from the start of the Alum Cave Trail.  The hike through the old-growth forest is especially quiet and peaceful without the summertime crowds.  The path goes from Newfound Gap Road to the top of Mount LeConte.  You will see log bridges and stone stairways. 
Porters Creek Trail is a gravel road for the first mile or so.  The trail then changes to a dirt trail and heads to Fern  Falls.  The hike to the Falls is about 4 miles, round-trip.  You will cross log bridges and see some of the stone walls erected by this area's original settlers.
If you prefer to drive, Cades Cove is a favorite winter destination.  The valley is a great place to observe wildlife, such as coyotes, raccoons, skunks, and deer.  The Visitor's Center is open year-round and can help you plan your visit to the historic buildings in the area.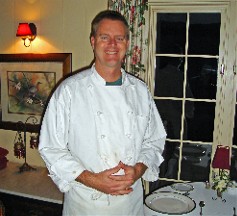 STARTER
California Shrimp Sushi Roll with Pickled Ginger, Wasabi, and Soy Sauce
SOUP
Duo of Roasted Yellow Pepper and Tomato Soup
DINNER COURSES
Grilled Pork Tenderloin with Mexican Rice and Black Beans, Salsa Verde, and Jicama Slaw
And
Seared Alaskan Halibut with Creamed Spinach, Artichoke, and Lobster with a Sherry-Infused Lobster Cream and Micro Greens
And
Deconstructed Beef Wellington with Truffle-Infused Mushroom Duxelle, Herbed Mashed Potato, Roasted Asparagus, Honey-Glazed Baby Carrot with a Cognac Jus Reduction
DESSERT
Lemon Genoise Cake with Blackberry Malbec Sauce, and Lemon Curd Ice Cream in a Chocolate Tulip Cup
Pork paired with apples is a classic combination.  The apples contribute a touch of sweetness and flavor to the chops and match well with the cabbage.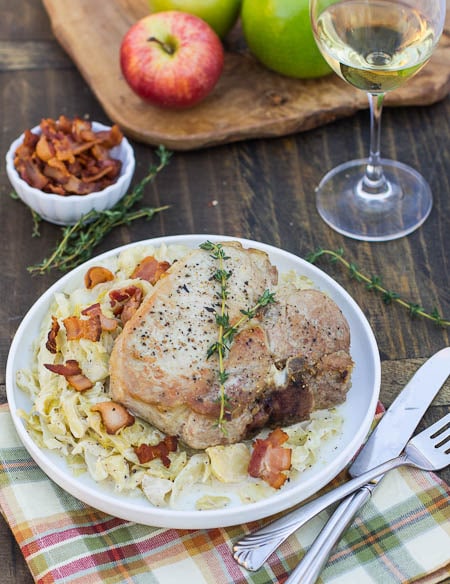 Mashed sweet potatoes would make a lovely autumnal starch to pair with this dish.  Pour yourself a glass of Riesling and say welcome to fall!
Pan-Roasted Pork Chops with Creamy Cabbage and Apples 
¼         Cup     Plus 1 tablespoon olive oil
4                      Thyme sprigs
1                      Garlic clove, coarsely chopped
4                      12-ounce bone-in pork loin chops     
3                      Thick slices of applewood-smoked bacon, cut into ½ inch dice
2          Tbl       Unsalted butter
½                     savoy cabbage, thinly sliced crosswise
1                      Granny Smith apple-peeled, cored and cut into 1/2–inch dice
1          Tsp      White wine vinegar
1          Tbl       Dijon mustard
¾         Cup     Heavy cream
¾         Cup     Milk
            Salt and freshly ground pepper
In a large, shallow dish, combine ¼ cup of the olive oil with the thyme sprigs and garlic.  Add the pork chops and turn to coat with the marinade.  Refrigerate overnight. 
In a large skillet, cook the bacon over the moderate heat, stirring a few times, until browned, about 4 minutes; pour off the fat.  Add the butter and cabbage to the skillet, cover and cook over moderate heat, stirring occasionally, until the cabbage is tender, about 7 minutes.  Add the apple and vinegar, cover and cook, stirring occasionally, until the apple is tender, about 5 minutes.  Stir in the mustard and cream and simmer uncovered over moderate heat until the cream has thickened, about 3 minutes.  Season with salt and pepper, cover and keep warm. 
Preheat the oven to 325 F.  In a large ovenproof skillet, heat the remaining 1 tablespoon of olive oil until shimmering.  Remove the pork chops from the marinade; discard the thyme sprigs and scrape off the garlic.  Season the chops with salt and pepper and add to the skillet.  Cook over moderately high heat until richly browned, about 3 minutes per side. 
Transfer the skillet to the oven and roast the chops for about 12 minutes, turning once halfway through, until just pink in the center.  Transfer the pork chops to plates and serve with the cabbage. 
Yield:  4 servings
Have you ever heard of Grandma Gatewood?  She was the first woman to hike the Appalachian Trail by herself.  She also was the first person to walk it three times.  Even more surprising is that she did all of this after age 65!
Ben Montgomery's book "Grandma Gatewood's Walk:  The Inspiring Story of the Woman Who Saved the Appalachian Trail" http://www.amazon.com was published by Chicago Review Press in 2016.  This is the story of a great-grandmother who left her small Ohio town with a change of clothes, a pair of thin-soled sneakers, and less than $200.  She did not have a tent nor any professional hiking gear.  By September 1955 she was standing atop Maine's Mount Katahdin proclaiming "I said I'll do it, and I've done it."  Emma Gatewood had lived through poverty, an abusive husband, and raised 11 children before she began her walk.  
On the trail she faced fierce storms and saw the beauty of nature.  She walked up steep ridges and down treacherous ravines.  She often relied
on the kindness of other hikers or community members to keep going.  It is not only a tale of grit and determination, but also of the healing power of nature.
The author interviewed family members and others that Gatewood met along her journey.  He also had access to her trail journals and diaries as well as media coverage of her amazing journey.  
Grandma Gatewood Benefitted the Trail
Gatewood became a celebrated hiker.  She appeared on television programs with Groucho Marx and Art Linkletter.  Her celebrity brought public attention to the Appalachian Trail.  She was not shy about voicing criticism of parts of the trail which were not well-maintained and hence difficult.  This public spotlight led to enhanced trail maintenance.  Many believe that this attention very likely saved the trail from extinction.
At age seventy-one she hiked the 2,000 mile Oregon Trail.  By the time she passed away at age 85, she likely had hiked more than 10,000 miles!
October 7, 2019
What special memories have you created at Buckhorn Inn?  Long-time guest, Tanya Young, is a watercolor artist.  She and her husband have made the Inn their special space for rest and renewal.  On her visits she has found quiet time to create watercolors of scenes that are special to her.
Inspired by a desire to capture some of her own moments at the Inn, her paintings are created as vignettes.  These vignettes invite the viewer to remember their own experiences here.  They also function as an invitation to perhaps see differently, according to Tonya.  "Simple moments of beauty are always around us, if we have eyes to see them."
Memories Vignettes Available in Gift Shop
Painted in a brighter palette, these watercolors are designed to be a reminder of your own Buckhorn Inn story.  They also remind us to appreciate the beauty before our eyes every day, just waiting to break through and be noticed.
The matted prints are $25 each and are found in our gift shop.  They measure 8.5″ x 11″, including the matting.  Her vignettes capture the meditation labyrinth, the path down to Cottage #1, a window table in the dining room, and the red-shaded lamps above the book case in the dining room.
Watercolors are usually translucent.  They appear luminous because the pigments are used in a pure form with few fillers.  In the late 1700's, William Gilpin wrote a series of books describing his travels through rural England.  http://www.metmuseum.org/art/collection/search  The books were illustrated with watercolors of river valleys, ancient castles, and churches.  The popularity of these books culminated in the celebration of watercolors as a distinctly English "national art".  
Watercolors are an expressive medium.  The brilliant hues in Tonya's paintings paired with the ethereal luminosity evoke a dream or memory.  We are delighted with these charming images and know that you will be, too.
September 30, 2019
Many travelers first hear about inns and B&Bs from friends.  They may be reluctant to stay at a bed and breakfast or small inn because they are not sure how these establishments function.  An article in the Huffington Post http://www.huffpost.com lists some reasons you may enjoy the unique experiences at independent inns.
At establishments like the Buckhorn Inn, your room rate includes a cooked-to-order breakfast.  Many hotels offer continental breakfasts.  But it is an entirely different experience to sit down to freshly baked breads, fresh fruit,  juice, a made-to-order entrée and a never-ending cup of robust coffee!
Bed and breakfasts also typically offer free wi-fi and complimentary parking.  And B&B owners and their staffs have a wealth of knowledge about the local area.  We are always happy to provide our personal favorite restaurant, gallery, and hiking recommendations!
Small inns typically have paid much attention to detail and comfort when furnishing the rooms.  Each accommodation at Buckhorn Inn is different and all have your relaxation in mind.  Many have fireplaces.  Complimentary beverages and afternoon snacks are something you don't often find at chain hotels!
Inns offer many options for privacy and socializing.  You have the opportunity to meet and interact with other interesting guests.  Or you can spend as much alone-time as you desire.  We even offer breakfast delivery for those guests who wish to dine in their accommodations.
As the Huffington Post article points out, hotels often see their patrons as customers, while innkeepers see their patrons as guests.  From the warm welcome you receive to the attentiveness of staff, to the appointments of your room, we want to help you create long-lasting memories at Buckhorn Inn.
Guest Ranks Buckhorn Inn Above Other Inns
We were delighted to receive this note this morning from our guest Dr. Bryska Benoit:
Dear owners!!!  I have already given Buckhorn Inn a great review on TripAdvisor!!  But, on a personal note, I just wanted you to know that 2 weeks before I visited your WONDERFUL inn, I also spent 3 days at Blackberry Farm with friends!!
Your service was just as exceptional, your accommodations even BETTER, and the food & value were beyond compare!!!  I would not hesitate to return to your inn & would recommend it to ANYONE!  I know thousands of people in our area and many of them vacation in the Smokies, winter and summer.  You will be my #1 place to stay!  Thank you again.
Thank you to our wonderful guests who recommend Buckhorn Inn to other travelers.
September 16, 2019
We were proud to host a Downton Abbey event for 50 guests on September 15, 2019.  Our speaker, Dr. David Woodfine, has served as personal butler to the 11th Duke of Marlborough.  He also has been High Steward at an Oxford College and oversaw the wedding of Lord Andrew Lloyd Weber.  Guests received a copy of his memoir "When Angels Dare to Tread".  Ticket sales benefitted reading/writing programs through the Hilliard Institute for Educational Wellness, a non-profit teaching and learning centre located in Spring Hill, TN and operating in Tennessee, North Carolina, Ireland, and England.http://www.hilliardinstitute.com
Insight into Lives of Downton Abbey Characters
Dr. Woodfine's professional experiences shed light on the real lives of fictional characters, such as those on Downton Abbey.  His memoir shares his love of educating students.  The following story is an excerpt from "When Angels Dare to Tread".
"One occasion I know that some of them [his students] will remember is the wedding of Andrew Lloyd Webber and Madeleine Gurdon in 1991.  A company that gave our young caterers and waiters experience of events invited us to take part in this one.  What excitement!  First, David Oswald and I attended all the planning meetings and were shown around the beautiful Lloyd Webber home, Sydmonton Court near Newbury, so that we could familiarize ourselves with the kitchen, cellar and layouts.  Then we put together two teams of students, about forty in all.
On the day of the wedding, the house was transformed as we were transported into a scene from "Phantom of the Opera".  Chandeliers sparkled against black drapes and the hexagonal plates on the tables were glazed black.  Our students wore white gloves to that no finger marks would transfer to the crockery and I was pleased as I watched and directed them to serve Michael Caine, Jason Donovan, Elaine Paige and a host of others from the world of stage, film, and television.  I worked discreetly in the background, feeling very satisfied when my students exchanged little pleasantries with the likes of Esther Rantzen, David Frost, and Michael Ball and seemed to take it all in their stride.  Quietly, I congratulated each one on how splendidly he or she was coping with the big occasion.  They did well, and I felt that if they could just handle this situation with confidence and efficiency–and keep smiling–then a good career was waiting for them."
September 9, 2019
Much like cilantro, the olive is a food that you either love or hate.  We happen to love the chewy, rich fruit of the olive tree and use them in many recipes.  This delicacy has a long history.  Research indicates that olives were first cultivated more than 7,000 years ago in the Mediterranean.  They were grown commercially in Crete as long ago as 3000 BC.  Spanish travelers brought olives to plant in Peru, Chile, and Argentina.  Spanish missionaries planted the tree in California, the start of a highly successful commercial crop.  
Oil from olives was once considered sacred, symbolizing wisdom, fertility, power, and purity.  The olive branch is still a symbol of peace.  The fruit is nutritious, too.  Olives, and their oil form an integral part of the Mediterranean diet which may help us live healthier lives. They are low in cholesterol, a good source of dietary fiber, and rich in iron and copper.  They are a good source of monounsaturated fatty acid and antioxidants.  Whether you eat them for health benefits or taste benefits, we are sure you will love this bread!
Olive Bread 
Preheat oven to 375 degrees F.
In an electric mixer, combine:
1          Cup     All-purpose flour
1          Tbl       Dry yeast
2          Tbl       Olive oil
1          Tbl       Salt
Add and mix until smooth:
1 ½      Cups    Warm water
Add (1 cup at a time) approximately 2 ½ cups flour or until a pliable dough is formed. Turn onto a floured surface and knead until smooth and elastic. Place in a greased bowl, loosely cover and let rise until double in size.
In a food processor, process until smooth and set
aside:
1          Cup     Black olives
2                      Cloves Garlic
1                      Shallot
1/4       Cup     Olive oil
Zest of 1 lemon
When doubled in size, press down dough. Divide
into thirds. Form flat rectangle. Spread part of
olive mixture on each dough. Roll up jellyroll
fashion. Pinch seams. Put on a greased and corn-
mealed baking sheet. Let rise until almost doubled.
Cut 2 or 3 diagonal slashes in each loaf. Bake 20-
25 minutes or until golden brown.
Yield: 3 loaves
September 3, 2019
You may have noticed that our online dinner menu now carries suggestions for wines that will pair especially well with the selections.  Guests routinely ask us for pairing recommendations, so our suggestions will help you take out some of the guesswork.  A member of our team is taking a certificate program at Napa Valley Wine Academy http://www.napavalleywineacademy.com so we all will benefit from what she learns.
A really good food and wine pairing creates a balance between the flavors of the dish and the characteristics of the wine.  Here are some basic rules of thumb:
 The wine should have about the same  intensity or "weight" as the food.  A robust wine might overwhelm a light dish, while a delicate wine might be overwhelmed by a hearty dish.
  Acidic wines work well with rich dishes.  For example, a zesty Sauvignon Blanc would complement the richness of macaroni in a creamy béchamel sauce.
 Rather than simply matching a wine with the protein in the entrée, match it with the sauce.
Off-dry wines, like a Riesling,  balance spice and are delicious with dishes featuring ginger, chutney, or barbecue sauce.
Wines that may seem lean or tannic when sipped by themselves may taste very different when paired with boldly-flavored food.  Don't be scared away!
Remember that taste is a subjective sense and what might be a "textbook perfect" pairing for one diner might not be perfect for another.  This subjective nature makes it possible to drink any kind of wine with any kind of food and have an enjoyable experience.  So feel free to experiment!
Taste Profiles for Wines Featured at Buckhorn Inn
In general, if you are looking for a pairing for a light seafood dish, try a light-bodied wine with a higher acidity, like Pinot Grigio.  Chardonnays have more body and are not as acidic and go well with fatty fish or a rich sauce..  Pinot Noir doesn't have a lot of tannin and is a light-bodied red.  Pair it with dishes featuring mushrooms or truffles.  If you are looking for full-body and high tannin, look for Cabernet Sauvignons.  Cabs go well with steaks and chops as the tannins refresh the palate.  Try a Malbec with sweet, spicy sauces as it is bold enough to hold its own.
Sparkling wines like Champagne, Prosecco, and Cava have a faint touch of sweetness, even when they are dry.  This makes them especially good with salty foods.  
Please let us know some of your favorite food and wine pairings.  Happy sipping!