Blog
French Toast for a Special Occasion Breakfast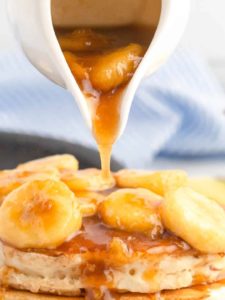 In the springtime we celebrate moms, dads, grads, newlyweds and many others. At Buckhorn Inn we love to celebrate with a scrumptious breakfast.
Perhaps no dish is so closely associated with Buckhorn Inn as is our Bananas Foster French Toast. Do you know who the
"Foster" is in Bananas Foster? In the 1950's New Orleans was the major port of entry for bananas shipped from Central and South America. Brennan's Restaurant owner Owen Brennan challenged his chef Paul Blange to create a new dish featuring bananas. Chef Paul created the flamed dessert and it was served at Brennan's for the first time. The dessert is named for Richard Foster who served as chairman of the New Orleans Crime Commission and led the civic effort to clean up the French Quarter. Foster was a frequent diner at Brennan's. Here is our recipe for Bananas Foster French Toast.
And in case you are really celebrating, I have included a recipe for Champagne Royale!
Toast
2 eggs
1 1/2 c. Milk
1/4 c. Sugar
1 t. Vanilla
6 slices French Bread
Mix the eggs, milk, sugar and vanilla. Dip French bread slices in mixture and cook in butter
until brown on both sides, about five minutes.
Sauce
2 T. Butter
2 T. Brown Sugar
1 banana, sliced
Powdered sugar
Bring butter and brown sugar to a fast boil. Add banana slices, stirring constantly. Cook
mixture until bananas begin to caramelize. Spoon onto French toast. Sprinkle with powdered
sugar and serve immediately.
Champagne Royale
1 bottle of Champagne or sparkling wine, chilled
6 teaspoons Chambord (raspberry liqueur)
Fresh raspberries
Pour 1 teaspoon of Chambord into each of six Champagne glasses. Fill with Champagne.
Place several raspberries in each glass.