Blog




April 16, 2022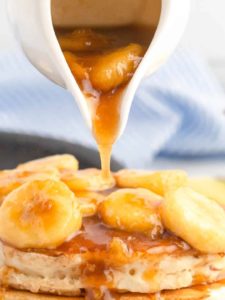 In the springtime we celebrate moms, dads, grads, newlyweds and many others. At Buckhorn Inn we love to celebrate with a scrumptious breakfast.
Perhaps no dish is so closely associated with Buckhorn Inn as is our Bananas Foster French Toast. Do you know who the
"Foster" is in Bananas Foster? In the 1950's New Orleans was the major port of entry for bananas shipped from Central and South America. Brennan's Restaurant owner Owen Brennan challenged his chef Paul Blange to create a new dish featuring bananas. Chef Paul created the flamed dessert and it was served at Brennan's for the first time. The dessert is named for Richard Foster who served as chairman of the New Orleans Crime Commission and led the civic effort to clean up the French Quarter. Foster was a frequent diner at Brennan's. Here is our recipe for Bananas Foster French Toast.
And in case you are really celebrating, I have included a recipe for Champagne Royale!
Toast
2 eggs
1 1/2 c. Milk
1/4 c. Sugar
1 t. Vanilla
6 slices French Bread
Mix the eggs, milk, sugar and vanilla. Dip French bread slices in mixture and cook in butter
until brown on both sides, about five minutes.
Sauce
2 T. Butter
2 T. Brown Sugar
1 banana, sliced
Powdered sugar
Bring butter and brown sugar to a fast boil. Add banana slices, stirring constantly. Cook
mixture until bananas begin to caramelize. Spoon onto French toast. Sprinkle with powdered
sugar and serve immediately.
Champagne Royale
1 bottle of Champagne or sparkling wine, chilled
6 teaspoons Chambord (raspberry liqueur)
Fresh raspberries
Pour 1 teaspoon of Chambord into each of six Champagne glasses. Fill with Champagne.
Place several raspberries in each glass.
February 5, 2022
I rarely order dessert as I usually am not in the mood for something sweet after a meal. I am,
however, very fond of ending a meal with a cheese plate. In France the cheese course comes
after the main course and before dessert, but I find I usually enjoy it in lieu of dessert.
I used a cheese course as inspiration for a Wednesday dessert I made this October. I made a
pear tart with a cheddar cheese crust and a cheese streusel topping. I carried the idea further
by serving it with a candied pear slice and toasted pecans. Several kind guests told me how
much they enjoyed it. The pears are the star of this dish and bring the sweetness. You may
use your favorite variety, but be sure they are ripe but firm. The Cheddar brings a bit of salt
and tang—use a good quality cheese. This dish also could be served as a brunch dish. I hope
you enjoy this taste of winter!
Pear and Cheddar Tart
Crust
1/3 cup vegetable shortening
1 cup all-purpose flour
1/8 teaspoon salt
1/8 teaspoon sugar
1 cup shredded sharp Cheddar cheese
4 to 6 teaspoons of ice water
Chill shortening in freezer for 15 minutes. Place flour, shortening, salt, sugar and cheese into a
food processor. Pulse 6 or 8 times until the mixture resembles peas. Add 4 teaspoons of ice
water. Pulse until the dough holds together—adding additional water if it seems dry. Form
dough into a disk and refrigerate until cold. Roll out dough between waxed paper. Peel off the
paper and fit the dough into a 10" tart pan with a removable bottom. Trim the edges. Line the
crust with foil and fill with pie weights or beans. Place on a baking sheet and bake at 400 F on
the bottom rack of the oven for 10 minutes. Remove the foil and weights—the edges of the
dough will stick a bit to the foil so you will need to use a knife to carefully loosen it. Return the
crust to the oven for 13 to 15 minutes. It will be golden. Cool on a rack.
Filling and Topping
1 stick unsalted butter, melted
1 cup all-purpose flour
1/2 cup sugar
1/4 teaspoon salt
1 cup shredded sharp Cheddar cheese
1 1//2 lbs. pears
Mix together butter, flour, sugar, salt and cheese until crumbly. Peel pears, cut in half and core,
and cut into 3/4" thick slices. Arrange slices very close together in crust. Sprinkle cheese
mixture over top. Place tart pan on a baking sheet. Bake in 400 F oven on bottom rack for 35
to 40 minutes. The streusel will be brown and the pears tender. Remove sides of pan before
serving. Best served warm. Makes 8 servings.
October 11, 2021
I always associate mulled wine with happy occasions.  The first time I was introduced to this splendid drink was when Jack and I lived in Chicago.  It was a cold December evening and we were visiting the Christkindlmarket
http://Www.christkindlmarket.com in Daley Plaza. It was gently snowing and we were surrounded by sparkling holiday lights, the sound of festive music, and the aromas of roasted nuts and spiced wine.  The mug of wine warmed my hands, the scent delighted my nose, and the flavors tickled my taste buds.  Since then, I have made hot spiced wine for my family's Christmas Eve Celebrations.
This October we are offering my autumn mulled wine in our sitting room on Thursday, Friday, and Saturday evenings.  If it meets with a positive response we will continue through November.  My recipe is full of fall flavors:  dry and fruity red wine, apple cider, honey, orange, and a variety of warm spices.  I recommend making it and serving it in a crock pot.  If you are entertaining a crowd this recipe may be doubled.   If you have any leftover, it may be kept in the refrigerator for a few days then gently reheated.
Use your favorite red wine in this recipe.  I prefer a somewhat dry Cabernet Sauvignon with notes of dark fruit and firm tannins as I like the way it blends with the other ingredients.
Buckhorn Brew Mulled Wine Recipe
1 bottle red wine (Merlot, Syrah, Cabernet Sauvignon all work well)
3 cups of apple cider
1/4 cup honey
1 orange, sliced
5 whole cloves
4 cardamom pods
2 cinnamon sticks
1 star anise
Add the wine, cider, and honey to a slow cooker.  Stir to be sure honey dissolves.  Put the spices in a cheesecloth bag and add to the cooker.  Float slices of orange on the top.  Cook on low for 45 minutes to an hour.  When ready to serve, turn the slow cooker to the "keep warm" setting.  Ladle into mugs and garnish with an orange slice and/or a cinnamon stick.  Makes 6-7 servings.
I hope this aromatic drink helps you to welcome autumn to your house!
August 10, 2021
Our new cookbook includes the recipe for Chef Bob's creation, Sticky Toffee Pudding Coffeecake. We include this recipe by popular demand—when it is served for breakfast practically everyone wants the recipe!
Sticky Toffee Pudding Coffeecake
Coffeecake
1 1/2 c pitted dates, chopped
1 t baking soda
1 1/2 c all-purpose flour
1 t baking powder
1/2 t kosher salt
4 T unsalted butter, at room temperature
1 c granulated sugar
2 eggs
1 t vanilla extract
Preheat oven to 350 F. Coat a 9 x 13" cake pan with nonstick spray and line with parchment paper. In a small saucepan cover the dates with one cup of water and bring to a boil. Remove from heat and whisk in baking soda; mixture will foam up. Let cool slightly. Sift the flour with the baking powder and salt. In a stand mixer fitted with the paddle beat the butter with granulated sugar until light and fluffy. Beat in the eggs and vanilla. In 2 alternating batches beat in the dry ingredients and date mixture until must incorporated. Scrape the batter into prepared pan and bake for 35 to 40 minutes or until a toothpick comes out clean. Let the cake cool in the pan for 10 minutes. Turn the cake onto a rack and peel off the parchment. Carefully return the cake, top side down, to the pan. Using a skewer, poke 15 to 20 holes in the cake. Pour half the warm sauce over the cake and let stand until absorbed, about 5 minutes. Invert onto a platter and poke another 15 to 20 holes in the top. Pour the remaining sauce over the top. Serve warm.
Sauce
1/2 c dark brown sugar
1 stick unsalted butter, cubed
1/2 c heavy cream
2 t brandy
1 t vanilla extract
1/2 t kosher salt
While the cake is cooling make the sauce. Bring the brown sugar, butter and heavy cream to boil over moderate heat, whisking to dissolve the sugar. Simmer over moderately low heat for 2 minutes, continually whisking. Remove from heat and whisk in brandy, vanilla, and salt. Keep warm.
July 20, 2021
Our new cookbook "A Treasury of Buckhorn Inn Recipes" is available from our office.  This edition was published in memory of John Mellor who served as Innkeeper from 1998 to 2020.  This cookbook provides recipes for old favorites, new additions to our menu, and a few treasured Mellor family recipes.  It includes guides to local attractions and information on the provenance of some of our recipes.  Copies are available in our gift shop or by calling our office.  We hope you enjoy it!  
Dinner guests love the variety of fish preparations on our menu.  One key is delicious and flavorful sauces.
Below are two easy recipes from the new publication.
Tropical Fruit Salsa for Fish
1 c. Papaya, peeled and finely diced
1/2 Mango, peeled and finely diced
1/2 c. White onion, finely chopped
3 T. Fresh cilantro, chopped
1 T. Orange juice
1 T. Lime juice
1/2 t. Jalapeño, minced
1/2 t. Salt
Stir together all ingredients.  Makes about two cups.  This refreshing salsa is delicious with grilled snapper, pan-seared cod, or other simply prepared fish.
Roasted Pepper Aioli for Fried Fish
1/4 c. Canned, fire-roasted red peppers, drained
1/2 c. Mayonnaise
1 T. Fresh chives, minced
2 t. Lemon juice
1 t. Garlic, minced
Chop the red peppers.  Purée with the other ingredients until smooth.  Makes about half of a cup.  This flavorful aioli also is delicious with crab cakes!
June 13, 2021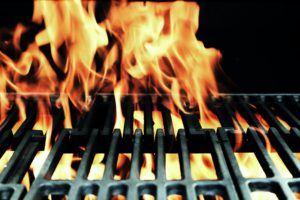 Grilling dinner is one of life's greatest pleasures—surpassed only by eating the grilled dinner! Marinating a chuck roast and basting it with maple barbecue sauce will turn the inexpensive meat into a tender, flavorful dish.
A nice big Zinfandel will stand up to the smoky flavors of this barbecue delight. Another option might be a peppery Australian Shiraz. And if you are grilling on a hot summer day, try a fruity, refreshing red wine sangria!
See recipe below.
Marinated Chuck Roast
1 onion, chopped
2 T. vegetable oil
4 cloves garlic, minced
1/3 c. soy sauce
¼ c. red wine vinegar
2 T. fresh rosemary, chopped
2 T. honey
1 ¼ c. beef broth
1 blade chuck roast, about 3 lb.
Maple barbecue sauce
Stir together onion, oil, garlic, soy sauce, vinegar, rosemary, honey and broth. Place the roast in a glass dish and pour the marinade over. Turn. Cover and refrigerate 36 hours, turning once. Bring to room temperature in marinade about 2 hours before cooking.
Preheat grill. Remove roast from marinade and grill 4 to 6 inches over hot coals. Baste with barbecue sauce and turn as needed. Cook about 30 minutes, or until a thermometer reads 130 for medium rare or 145 for medium. Remove from grill and let rest before serving. Slice thinly and serve with additional barbecue sauce. Serves 4 to 6.
Maple Barbecue Sauce
2 T. vegetable oil
1 onion, chopped
½ c. white distilled vinegar
¼ c. sugar
3 c. ketchup
¼ c. dark brown sugar
1 c. maple syrup
1 c. water
½ c. red wine vinegar
10 garlic cloves, minced
4 t. Worcestershire sauce
4 t. A-1 sauce
1 t. black pepper
½ t. paprika
¼ t. cayenne pepper
¼ t. salt
Heat oil and sauté onion until soft. Add white vinegar and sugar, bring to a boil. Stir until the sugar dissolves. Stir in ketchup, brown sugar, maple syrup, water, red wine vinegar and seasonings. Simmer for about an hour. It will thicken slightly. Cool to room temperature and use immediately or store in the refrigerator.
March 23, 2021
As the weather warms we are hopeful that our honey bees made it through the cold, wet winter. We love our honey and are always looking for new recipes featuring this special ingredient. This recipe is sweet and hot, and would make a great snack to enjoy while watching the NCAA basketball tournament. As for wine, I especially enjoy Gewürztraminer with spicy food. You might also try an off-dry Riesling. Stay away from anything oaked or very dry. A crisp lager would be another good choice.
Honey Jerk Chicken Wings
20 chicken wings
Marinade
1 tablespoon of finely minced ginger
2 garlic cloves, chopped
4 green onion tops, chopped
¼ to ½ hot pepper, deseeded and finely chopped
1 teaspoon fresh thyme leaves
2 teaspoons nutmeg
1 teaspoon ground allspice
1 teaspoon salt
3 tablespoons honey
1/3 cup apple cider vinegar
2 tablespoons olive oil
Put all ingredients for the marinade in a blender and process to a smooth paste. Put chicken in a non-metallic bowl and mix with the marinade. Cover and refrigerate overnight. Preheat oven to 375 and line a baking sheet with parchment. Cook wings for 45 minutes. Serve with a wedge of lime.
February 22, 2021
A highlight of any Buckhorn Inn dinner is when the basket of warm bread is delivered to your table.  You gently lift off the cloth napkin and inhale the warm, yeasty fragrance.  You select a slice and watch as the butter melts slowly into every nook and cranny.  That first bite is heaven!  One of our most popular bread recipes is below.  The aroma of fresh-baked bread will have your family gathering in the kitchen! 
Country Granary Bread
Preheat oven to 400 F.
2          Tablespoons active dry yeast
                        Pinch brown sugar
1 ¼      Cups    Warm water
1/3       Cup     Old-fashioned rolled oats
1          Cup     Cooked bulgur wheat, flax and/or
                        millet
2          Tablespoons       Light brown sugar
1          Cup     Whole wheat flour
3 1/3    Cups    All-purpose or bread flour
1 ¼      Cups    Warm milk
¼         Cup     Vegetable oil
1          Tablespoon      Salt
To cook the bulgur wheat, flax and millet, place the grains in a small bowl and pour in two cups of boiling water.  Let stand for about 30 minutes.  Drain.
Combine the yeast, pinch of brown sugar and warm water.  Stir to dissolve.  Let stand until foamy, about 10 minutes.
In the work bowl of a heavy-duty electric mixer fitted with the paddle attachment, combine the warm milk, oil, the yeast mixture, salt, oatmeal, brown sugar, and the cooked bulgur wheat, flax and millet mixture.  Add the salt and 2 cups of the white and whole wheat flour combined.  Whisk hard until smooth, about 1 minute.  Let stand, uncovered, 30 minutes.  Add the remaining flour, ½ cup at a time, until a soft dough is formed that just clears the sides of the bowl.
Turn out the dough onto a lightly floured work surface and knead until light-colored, smooth, and springy, about 2 minutes, adding only 1 tablespoon flour at a time as needed, and cover with plastic wrap.  Let rise at room temperature until doubled in bulk, 1 ½ to 2 hours.
Turn out the dough onto a lightly floured work surface and divide into 2 equal portions.  Cut each portion into 2 uneven pieces.  Form the 2 large pieces into tight round loaves.  Place on a greased or parchment-lined baking sheet sprinkled with more oatmeal and cereal grains.  Loaves may be formed in a conventional round fashion.  If you want to make the more decorative turban shape, use your fingers to take a pinch from each of the two loaves to form an indentation. 
Roll the 2 small pieces into teardrop-shaped ovals and place in the indentation on the larger rounds, centering them.  Using a floured finger, poke into the middle of each loaf right through the middle to the bottom.  This is important to join the two sections to form one loaf.  Cover loosely with plastic wrap and let rise at room temperature until doubled in bulk, about 45 minutes.
Twenty minutes before baking, heat the oven to 400 F.  Gently brush the tops of the loaves with the 1 tablespoon of oil.  Refine the indentation through the center of each loaf.  Bake in the lower half of the preheated oven until the loaves are golden brown and the bottoms sound hollow.
Yield:  2 cottage loaves
January 16, 2021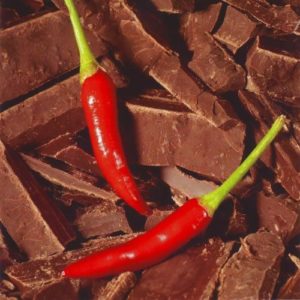 Jack and I met the summer of 1981 in Chicago. We both had just graduated from college and moved to the big city—he from Kentucky and me from Indiana. We were working hard at our first post-college jobs and trying to manage rent and all the other expenses that come with being on your own. Needless to say, we were pinching pennies. When it came to celebrating holidays and special occasions, we started going to Mexican restaurants. The atmosphere was festive, the food delicious and reasonably priced, and dinners came with complimentary chips and salsa—perfect for us. So perfect that all these years later we still celebrate with Mexican food.
This recipe is one of my favorites. The chocolate adds color, the cinnamon and sugar add sweetness, and the chili powder adds spice. This recipe is from "Easy Entertaining" by Marlene Sorosky and I made it for one of the first meals that John and Lee had at our house. That was a special occasion indeed! I often pair this dish with a lush, red Zinfandel. The warm spice, dark berry, vanilla and chocolate notes in the wine go nicely with the dark, bold flavors of the chili. On the other hand, Jack recommends you enjoy it with a bottle of cold Dos Equis or your favorite Mexican beer.
1 ½ cups dried black beans
2 onions, finely chopped
6 cloves garlic, minced
4 pounds pork butt, cut into ½ inch cubes
1/3 cup chili powder
1 tablespoon plus one teaspoon ground cumin
1 tablespoon plus one teaspoon dried oregano
1 teaspoon cinnamon
1 tablespoon sugar
½ teaspoon cayenne pepper
1 teaspoon salt
1 14 ½ ounce can whole tomatoes
4 ½ cups chicken broth
1 ½ ounces unsweetened chocolate
2 corn tortillas torn into small pieces
Rinse beans and place in a large saucepan. Cover with water and bring to a boil. Cook for one minute then drain. Add fresh water to cover by three inches, bring to a boil, reduce heat to low and simmer, partially covered about 45 minutes. Drain and set aside to cool. (Or, use two 16-ounce cans of black beans, rinsed and drained.)
Heat 2 tablespoons of oil. Add onions and garlic and cook until soft, about 20 minutes. Remove from pan and set aside. Heat 2 tablespoons of oil and add the pork. Cook over moderate heat for about 20 minutes or until pink is gone. Pour off drippings. Stir in onions, spices, sugar and salt. Cook 5 minutes. Break up tomatoes and add them with their juice. Add chicken broth and chocolate. Bring to a boil, lower heat and simmer, uncovered, for an hour and a half. Add beans and continue to simmer for 30 minutes until pork is tender and chili has thickened. Stir in tortillas and simmer until they have dissolved.
Offer chopped tomatoes, chopped fresh cilantro, finely chopped onion, and/or sour cream as condiments. Serves 8.