Blog




November 17, 2022
This chicken dish makes regular appearances at Buckhorn Inn. Guests are always delighted to
see it on the menu. The apricots are the star of the dish. The tart/sweet flavor of the fruit
brings out the sugar in the onion. We usually suggest Meiomi Chardonnay as a good pairing.
The aromas of stone fruit in the wine work well with this dish. To complete your Buckhorn
Evening in our own home, don't forget to take home our logo stemless wine glasses! You will
find them for $12 in the gift shop.
3 1/2 oz dried apricots
4 skin-on boneless chicken breasts
Salt and Pepper
1 T olive oil
1 onion, diced
1 garlic clove, thinly sliced
2 thyme sprigs
1 bay leaf
1/2 c dry white wine
1 1/2 c chicken stock
2 T apricot preserves
1 T unsalted butter
Preheat the oven to 350 F. Rehydrate the apricots by covering them with hot water and letting
then stand for 15 minutes, then drain. Season the chicken and cook in hot oil until the skin is
golden brown. Turn and cook 3 minutes more. Transfer to a baking sheet and roast for 15
minutes. Meanwhile, cook the onion, garlic, thyme and bay leaf in the skillet until the onion is
tender. Add the wine and boil until reduced by half, scraping up the browned bits. Add the
stock, apricots and preserves. Bring to a boil. Cook until the sauce thickens. Remove from
heat and stir in butter. Discard the thyme and bay leaf. Season. Plate the chicken and spoon
the sauce over it. Makes four servings.
October 25, 2022
Bush's Chili Beans is presenting the 33rd Gatlinburg Chili Cookoff on November 10, 2022.  Samples of a variety of chilis, from mild to wild, will be available from 5:00 to 8:00 pm at Anakeesta Plaza, 576 Parkway in Gatlinburg.  Free, live entertainment will be offered throughout the event.  This is a popular event, so we recommend that you purchase your tickets in advance.  General Admission tickets are $15 per person (5:30 pm entry) and VIP tickets (good for early entry) are $20 per person.  To purchase tickets, please visit http://Www.gatlinburg.com
November 10 also marks the official lighting of the thousands of twinkling lights that will adorn the city all winter long!  The Headliner for the Kickoff will be singer Hannah Dasher.  She will be performing in the Shade Tree Lot.
While we won't be entering the friendly competition this year, we are sharing our chili recipe with you!
Beef Chili
2 1/2 lb chuck roast, cubed
Salt and Pepper
1 T vegetable oil
2 1/2 lb lean ground beef
1 sweet onion, chopped
6 garlic cloves, minced
24 oz lager beer
1 14 oz can crushed tomatoes
3 dried guajillo chiles
2 T chili powder
1 T ground cumin
1 T dried oregano
3/4 c corn meal
1 15 oz can of each, drained and rinsed:  dark red kidney beans, light red kidney beans, pinto beans, garbanzo beans
Heat the oil.  Salt and pepper the chuck roast and sear until browned.  Remove from the pot and add the ground beef.  Cook until browned.  Add the onion and garlic and cook for 3 minutes.  Add back the roast along with the beer and tomatoes.  Snip the chiles into small strips, add to the pot, and bring to a boil.  Add the spices and 2 t of salt.  Reduce to a simmer and cook for 10 minutes.  Mix the corn meal with just enough water to form a paste and add to the pot.  Add the beans.  Adjust the seasoning and simmer for one hour.  Makes 10 servings.
We like to serve this with sour cream, cilantro leaves, fresh tomatoes, lime wedges, and finely sliced green onion.
September 5, 2022
Have you tried gremolata?  Last week the Mellor family celebrated Lee's birthday at The Appalachian http://Www.theappalachianrestaurant.com in Sevierville.  If you have not been there, it is one of the restaurants we highly recommend, if you are not eating at Buckhorn Inn, of course!  Anyway, Lee and I both had a lovely trout dish.  The fish was split open and deboned and cooked perfectly.  It was topped with pickled onions, fresh greens and gremolata.
Gremolata is an Italian green sauce with chopped parsley, lemon zest and garlic.  It is a close cousin to pesto sauce.  It added a zesty note to our trout, and we thought it would be delicious in a variety of dishes.  You can easily create variations on this sauce.  For example, you could substitute lime, orange or grapefruit zest for the lemon.  You might want to add cilantro, mint, sage, or another herb to the parsley.  And adding some Parmesan cheese, walnuts or toasted pine nuts would give a new, and delicious, flavor profile to this versatile topping.  If you like a bit of spice, crushed red pepper or horseradish would be a great add-in.  
Classic Gremolata
1 small bunch of parsley, rinsed and dried. (About 1 cup of loosely-packed leaves.)
1 clove of garlic
2 lemons, washed and dried
Very finely chop the parsley.  Finely grate the garlic over the parsley.  Grate the zest from the two lemons over the garlic and parsley.  Continue to chop the ingredients, mixing it all together, until the texture is very fine.  The sauce can be stored in the refrigerator for a day.  This recipe yields about 1/3 cup.
This sauce is wonderful on top of grilled meat or fish.  But you could also try it on top of a creamy bisque, roasted root vegetables, cooked greens, creamy polenta, or any other dish that needs a bright pop of flavor and color.  
Let us know how YOU use  this recipe!
August 15, 2022
This weekend we harvested honey from one of our hives.  Several guests have asked us about the process.  Earlier in the summer, we placed a "super" on top of our hive.  The super is a small box.  It sits on top of a "queen excluder" so that no eggs will be laid in the super.  When all the frames are covered with honey comb capped in white wax, it is time to harvest.
We don our protective gear and give the bees some gentle puffs from our smoker.  The smoke keeps them calm by interfering with their sense of smell.  They can't detect the alarm pheromones being released and thus will not aggressively defend their hive against us.  We take out each honey-laden frame, gently brush off the bees, and place it in a covered box.  Once we have collected all the frames, it is time for extraction.
Honey Extraction
We extract the honey on our screened porch so that we keep the stickiness confined to one area, and so that the bees cannot reach us!  The first stop is to use a scratcher to remove the wax capping from the cells.  We then scrape the honey and wax into a fine-mesh sieve atop a collection bucket.  Once the honey has been filtered once, we do a second filtration through cheese cloth and then it is on to bottling!
This year's honey is a beautiful gold amber color and we can't wait to see how the Buckhorn Inn chefs use it!  We will clean the beeswax and then use it to make candles.  More on that process later.
We are careful to only take the extra honey.  Our bees need adequate stores to get them through the winter.
In celebration of our harvest, we are offering this simple summer cocktail recipe.  Cheers!
The Bee's Knees
2 ounces gin
2 tablespoons honey
2 tablespoons fresh lime juice
Combine the ingredients in a cocktail shaker filled with ice.  Shake until chilled.  Strain into a glass.  Makes one cocktail.
July 19, 2022
We tried two new recipes out on Lee and our friends Sam and Lucy over the Fourth of July weekend.  They were both hits, so I am passing them along to you.  Both can be prepped early and held, so that you can spend more time with your guests.  The Greenbrier House Grillmaster, Jack, rounded out the main course with roasted potatoes.  For a red, white and blue dessert, I served vanilla bean ice cream with wild blueberry sauce and strawberries that had marinated in limoncello.  A bottle of Spanish Cava added some sparkle to our evening!
Summer Supper Recipes
Zucchini and Tomato Packets
3 medium zucchini and/or summer squash, sliced
1 pint cherry tomatoes
2 t olive oil
1 t dried oregano
1/2 t dried basil
1/2 t sea salt
1/4 t black pepper
1/2 c crumbled feta cheese
Combine zucchini, tomatoes, olive oil, herbs, salt and pepper in a large bowl.  Pour onto a sheet of heavy duty foil.  Fold top and ends to form a packet.  Grill for 12 minutes on a medium-high grill.  Sprinkle with cheese before serving.  Makes six servings.  Note:  This recipe also works well in the oven.  Place the foil packet on a cookie sheet and bake for 20 minutes in a 450 degree oven.
Grilled Tilapia with Zesty Mustard Sauce
2 T olive oil
2 T butter at room temperature
1 t Dijon mustard
1/2 t grated lemon peel
1/2 t Worcestershire sauce
1/4 t black pepper
4 fish fillets (about 4 oz each)
1 1/2 t paprika
1/4 t salt
1/2 lemon
2 T minced fresh parsley
Lightly oil a grill basket. Combine butter, mustard, lemon peel, Worcestershire sauce, and pepper.  Stir until blended and set aside.  Sprinkle both sides of fish with paprika and salt.  Grill fish, in oiled basket, over high heat.  Cook about 6 minutes, turning halfway through.  The fish will flake easily when done.  Remove to a serving platter.  Squeeze lemon over hot fish and top each fillet with butter mixture.  Garnish with Parsley.  Makes four servings.
April 16, 2022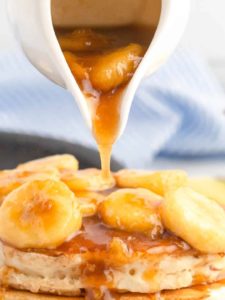 In the springtime we celebrate moms, dads, grads, newlyweds and many others. At Buckhorn Inn we love to celebrate with a scrumptious breakfast.
Perhaps no dish is so closely associated with Buckhorn Inn as is our Bananas Foster French Toast. Do you know who the
"Foster" is in Bananas Foster? In the 1950's New Orleans was the major port of entry for bananas shipped from Central and South America. Brennan's Restaurant owner Owen Brennan challenged his chef Paul Blange to create a new dish featuring bananas. Chef Paul created the flamed dessert and it was served at Brennan's for the first time. The dessert is named for Richard Foster who served as chairman of the New Orleans Crime Commission and led the civic effort to clean up the French Quarter. Foster was a frequent diner at Brennan's. Here is our recipe for Bananas Foster French Toast.
And in case you are really celebrating, I have included a recipe for Champagne Royale!
Toast
2 eggs
1 1/2 c. Milk
1/4 c. Sugar
1 t. Vanilla
6 slices French Bread
Mix the eggs, milk, sugar and vanilla. Dip French bread slices in mixture and cook in butter
until brown on both sides, about five minutes.
Sauce
2 T. Butter
2 T. Brown Sugar
1 banana, sliced
Powdered sugar
Bring butter and brown sugar to a fast boil. Add banana slices, stirring constantly. Cook
mixture until bananas begin to caramelize. Spoon onto French toast. Sprinkle with powdered
sugar and serve immediately.
Champagne Royale
1 bottle of Champagne or sparkling wine, chilled
6 teaspoons Chambord (raspberry liqueur)
Fresh raspberries
Pour 1 teaspoon of Chambord into each of six Champagne glasses. Fill with Champagne.
Place several raspberries in each glass.
February 5, 2022
I rarely order dessert as I usually am not in the mood for something sweet after a meal. I am,
however, very fond of ending a meal with a cheese plate. In France the cheese course comes
after the main course and before dessert, but I find I usually enjoy it in lieu of dessert.
I used a cheese course as inspiration for a Wednesday dessert I made this October. I made a
pear tart with a cheddar cheese crust and a cheese streusel topping. I carried the idea further
by serving it with a candied pear slice and toasted pecans. Several kind guests told me how
much they enjoyed it. The pears are the star of this dish and bring the sweetness. You may
use your favorite variety, but be sure they are ripe but firm. The Cheddar brings a bit of salt
and tang—use a good quality cheese. This dish also could be served as a brunch dish. I hope
you enjoy this taste of winter!
Pear and Cheddar Tart
Crust
1/3 cup vegetable shortening
1 cup all-purpose flour
1/8 teaspoon salt
1/8 teaspoon sugar
1 cup shredded sharp Cheddar cheese
4 to 6 teaspoons of ice water
Chill shortening in freezer for 15 minutes. Place flour, shortening, salt, sugar and cheese into a
food processor. Pulse 6 or 8 times until the mixture resembles peas. Add 4 teaspoons of ice
water. Pulse until the dough holds together—adding additional water if it seems dry. Form
dough into a disk and refrigerate until cold. Roll out dough between waxed paper. Peel off the
paper and fit the dough into a 10" tart pan with a removable bottom. Trim the edges. Line the
crust with foil and fill with pie weights or beans. Place on a baking sheet and bake at 400 F on
the bottom rack of the oven for 10 minutes. Remove the foil and weights—the edges of the
dough will stick a bit to the foil so you will need to use a knife to carefully loosen it. Return the
crust to the oven for 13 to 15 minutes. It will be golden. Cool on a rack.
Filling and Topping
1 stick unsalted butter, melted
1 cup all-purpose flour
1/2 cup sugar
1/4 teaspoon salt
1 cup shredded sharp Cheddar cheese
1 1//2 lbs. pears
Mix together butter, flour, sugar, salt and cheese until crumbly. Peel pears, cut in half and core,
and cut into 3/4" thick slices. Arrange slices very close together in crust. Sprinkle cheese
mixture over top. Place tart pan on a baking sheet. Bake in 400 F oven on bottom rack for 35
to 40 minutes. The streusel will be brown and the pears tender. Remove sides of pan before
serving. Best served warm. Makes 8 servings.
October 11, 2021
I always associate mulled wine with happy occasions.  The first time I was introduced to this splendid drink was when Jack and I lived in Chicago.  It was a cold December evening and we were visiting the Christkindlmarket
http://Www.christkindlmarket.com in Daley Plaza. It was gently snowing and we were surrounded by sparkling holiday lights, the sound of festive music, and the aromas of roasted nuts and spiced wine.  The mug of wine warmed my hands, the scent delighted my nose, and the flavors tickled my taste buds.  Since then, I have made hot spiced wine for my family's Christmas Eve Celebrations.
This October we are offering my autumn mulled wine in our sitting room on Thursday, Friday, and Saturday evenings.  If it meets with a positive response we will continue through November.  My recipe is full of fall flavors:  dry and fruity red wine, apple cider, honey, orange, and a variety of warm spices.  I recommend making it and serving it in a crock pot.  If you are entertaining a crowd this recipe may be doubled.   If you have any leftover, it may be kept in the refrigerator for a few days then gently reheated.
Use your favorite red wine in this recipe.  I prefer a somewhat dry Cabernet Sauvignon with notes of dark fruit and firm tannins as I like the way it blends with the other ingredients.
Buckhorn Brew Mulled Wine Recipe
1 bottle red wine (Merlot, Syrah, Cabernet Sauvignon all work well)
3 cups of apple cider
1/4 cup honey
1 orange, sliced
5 whole cloves
4 cardamom pods
2 cinnamon sticks
1 star anise
Add the wine, cider, and honey to a slow cooker.  Stir to be sure honey dissolves.  Put the spices in a cheesecloth bag and add to the cooker.  Float slices of orange on the top.  Cook on low for 45 minutes to an hour.  When ready to serve, turn the slow cooker to the "keep warm" setting.  Ladle into mugs and garnish with an orange slice and/or a cinnamon stick.  Makes 6-7 servings.
I hope this aromatic drink helps you to welcome autumn to your house!
August 10, 2021
Our new cookbook includes the recipe for Chef Bob's creation, Sticky Toffee Pudding Coffeecake. We include this recipe by popular demand—when it is served for breakfast practically everyone wants the recipe!
Sticky Toffee Pudding Coffeecake
Coffeecake
1 1/2 c pitted dates, chopped
1 t baking soda
1 1/2 c all-purpose flour
1 t baking powder
1/2 t kosher salt
4 T unsalted butter, at room temperature
1 c granulated sugar
2 eggs
1 t vanilla extract
Preheat oven to 350 F. Coat a 9 x 13" cake pan with nonstick spray and line with parchment paper. In a small saucepan cover the dates with one cup of water and bring to a boil. Remove from heat and whisk in baking soda; mixture will foam up. Let cool slightly. Sift the flour with the baking powder and salt. In a stand mixer fitted with the paddle beat the butter with granulated sugar until light and fluffy. Beat in the eggs and vanilla. In 2 alternating batches beat in the dry ingredients and date mixture until must incorporated. Scrape the batter into prepared pan and bake for 35 to 40 minutes or until a toothpick comes out clean. Let the cake cool in the pan for 10 minutes. Turn the cake onto a rack and peel off the parchment. Carefully return the cake, top side down, to the pan. Using a skewer, poke 15 to 20 holes in the cake. Pour half the warm sauce over the cake and let stand until absorbed, about 5 minutes. Invert onto a platter and poke another 15 to 20 holes in the top. Pour the remaining sauce over the top. Serve warm.
Sauce
1/2 c dark brown sugar
1 stick unsalted butter, cubed
1/2 c heavy cream
2 t brandy
1 t vanilla extract
1/2 t kosher salt
While the cake is cooling make the sauce. Bring the brown sugar, butter and heavy cream to boil over moderate heat, whisking to dissolve the sugar. Simmer over moderately low heat for 2 minutes, continually whisking. Remove from heat and whisk in brandy, vanilla, and salt. Keep warm.