Blog
A Bountiful Brunch Recipe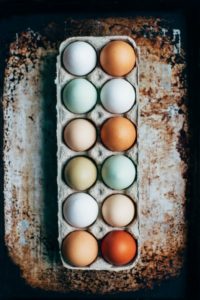 Thinking about our chickens and their eggs brings quiche to mind. Chef Frank Downs is famous for his quiche—he has a knack for tender pastry and creamy filling. But when I am pressed for time, instead of Frank's recipe I use frozen puff pastry. The following recipe is quick, easy and delicious! We served it during the holidays and rounded out our brunch menu with roasted rosemary potatoes, and Greek yogurt topped with limoncello-marinated berries. 
For ingredients and directions, see below.  
Goat Cheese Quiche
1 T extra-virgin olive oil
1 T unsalted butter
2 cloves garlic, minced
8 cups kale and/or chard
Kosher salt
1 sheet frozen puff pastry, thawed
5 ounces goat cheese
1/2 cup shredded Parmesan Cheese
4 large eggs
1 cup heavy cream
1/4 t ground nutmeg
1/4 t black pepper
Preheat oven to 425 F.  
Heat olive oil and butter in large skillet. Add garlic and cook about one minute. Add greens and 1/2 t salt. Cook, stirring occasionally, until the greens wilt and the
liquid evaporates. This should take 5 to 7 minutes.  
Roll out the pastry on a lightly floured board until large enough to fit a 9" pie plate. Ease pastry into pie plate, trim and crimp the edges. Scatter the cheeses in the bottom, then top with the sautéed greens. Whisk the eggs, cream, nutmeg, 1/2 t salt, and 1/2 t pepper together. Pour over the greens.
Bake until the crust is golden brown and the filling set.  Serves 4.