Blog
75th Anniversary Kicks Off with 1930s-40s Themed Dinner Party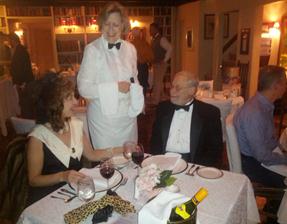 The opening event of Buckhorn Inn's 75th Anniversary was held on Saturday, January 26. Our dining room was lit by the soft glow of candles and the warmth of a fire as guests sipped Bellinis and enjoyed a sumptuous dinner featuring an entrée of Peppercorn Crusted Filet Mignon with Brandy Cream Sauce and a dessert of Baked Alaska Flambe. Big band music set the mood perfectly. All guests joined in the spirit of the evening, some by donning clothing from the period. Prizes were awarded for Best Dressed Couple (see Jan and Ira Lapides above), Best Group of Men in Bowties (Messrs Hunt, Pendery, Plomin and Furr), Best Dressed Lady (Mrs. Plomin), Best Lady in a Ponytail Wearing a Hat (Mrs. Turner), Lady in the Most Authentic 1930's Hat (Mrs. Terrell), and Most Attractive Man Wearing a Lady's Hat (Mr. Franklin). We thank the sold out crowd for their enthusiastic launch of our Diamond Jubilee Year Celebration.
See below for the complete menu for the evening:

Celebrating 75 Years of Hospitality

1938-2013
Peppercorn Crusted Filet Mignon with Brandy Cream Sauce

Accompanied by Sweet Potato Casserole and Bacon Brussels Sprouts
Apple Waldorf Salad

Field Greens with Crisp Apple, Vegetables and Honey-Herb Buttermilk Dressing

Split Pea Soup with Country Ham

Split Peas and Vegetables Slow-Cooked in a Rich Broth with Country Ham
Baked Alaska Flambe

Vanilla Cake Layered with Chocolate, Vanilla and Strawberry Ice Cream Wrapped in Meringue
Popular Cuisine of the 1930s and 40s.