Blog
Fall Has Started Falling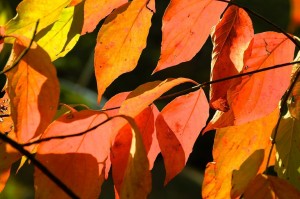 Fall is a beautiful, fascinating period in the Smokies and at Buckhorn Inn.  This photo of the leaves of one of our dogwoods was taken by Bertram Henry, a Buckhorn Regular, when he was here this week.  The main fall leaf season is still several weeks away (mid to late October), but color has begun to develop over the past week in high elevation areas. Many birch trees are showing muted yellows, and species such as witch hobble, sumac, and blueberries are sporting red leaves at higher elevation. It's still early in the season though, so colors should continue to develop over the next week or two along the crests of the mountains.
At low to middle elevations, dogwood trees have a reddish cast that will develop into brilliant reds later in October. Species such as sourwood and red maple are also turning red. And the brilliant reds of Virginia creeper vine can be seen climbing the trunks of many trees. Overall however, the forests are still very green at these elevations. There's not a lot fall color to see yet — just scattered trees here and there.
Fall flowers displays are glorious now. Flowers such as purple asters, white asters, black-eyed Susans, pale jewelweed, ironweed, great blue lobelia, closed gentian, and goldenrod are blooming profusely along roadsides and trails. In the forests, look for the vibrant pink, purple, and red fruits of hearts-a-bustin' bushes and the brilliant reds of dogwood berries.