Blog
Meet the Other Mrs. Mellor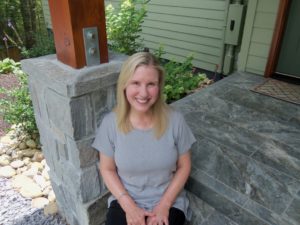 The Mellor Family got lucky 30 years ago when the second Mellor son Jack married Indiana native Sharon Galbreath. We are are so happy that Jack and Sharon have left ttheir corporate careers in Chicago to take  up permanent residence at Buckhorn. Sharon has been making herself very useful around the Inn already and many of you have met her at breakfast, dinner or on check-out. She styles herself as "the daugther-in-law" and loves to talk about food, one of her passions.
Sharon and Jack lived for the past 36 years in greater Chicago area. A Certified Association Executive, most of Sharon's career has been focused on national, nonprofit dental and medical organizations.  Her work history includes: Associate Executive Director of Oral and Maxillofacial Surgery Foundation, Executive Director of American Academy of Periodontology Foundation, and most recently CEO of the Orthopaedic Research and Education Foundation (OREF). At OREF we funded more than $2 million of research each year, providing medical researchers with the data and mentoring they needed to go on to large-scale funding. Sharon says that she " took a great deal of satisfaction in working with donors and other stakeholders to grow the pool of researchers whose work ultimately will provide breakthroughs in patient care."
Sharon earned a BA from Purdue University, MBA from Loyola University and a PhdD from Union Institute and University.
Sharon currently serves on the Board of Directors of a nonprofit called CreatiVets which helps veterans with PTSD develop coping tools by helping them express themselves through music, the visual arts and creative writing. She is a member of MENSA and has served on their national public relations advisory board. Sharon is also a member of the John Purdue Society and cheer on my beloved Boilermakers!