Blog




February 8, 2020
What to serve for a special dinner? How about baked salmon stuffed with goat cheese and spinach? The beautiful green of the filling peeking out from the salmon makes a gorgeous presentation. Add a green salad and some pan-fried potatoes and you have a great meal! The fish can be stuffed in advance and refrigerated, making this a great company meal. We recommend serving a crisp Sauvignon Blanc with this dish. The vibrant acidity of the wine will cut through the richness of the cheese. If you prefer a red wine with your salmon, try a Pinot Noir like the La Crema that we serve at Buckhorn Inn. The bright, juicy fruit flavors of the wine will complement the salmon.
Salmon with Goat Cheese and Spinach
10 ounces frozen chopped spinach, thawed and drained
½ cup cream cheese, room temperature
½ cup goat cheese, room temperature
8 salmon fillets with skin, each about 1" thick
Olive oil
2 cups panko bread crumbs
1 stick butter, melted
Preheat oven to 450. Mix cream and goat cheeses. Stir in spinach. Season to taste with salt and pepper. Cut a ¾" deep slit down the center of each salmon fillet. Fill each slit with the spinach mixture. Brush a rimmed baking sheet with olive oil. Place the fillets on the sheet, skin side down, and sprinkle with salt and pepper. Mix crumbs and melted butter. Top salmon with the butter and panko crumbs, pressing to adhere. Bake until the salmon is opaque in the center, about 12 minutes.
January 21, 2020
Our guests have been asking how our honey bees are spending the winter.  We thought that you might be curious as well.
They don't fly south and they don't hibernate–they have developed their own means for coping with the cold weather.  In order to stay warm the bees gather in a central area of the hive and form what is known as a winter cluster.  The worker bees gather around the queen.  The queen is at the center of the cluster.  Worker bees flutter their wings and shiver.  This constant motion generates heat and keeps the inside of the hive warm.  The worker bees shift from the outside of the cluster to the inside so they all have a chance to warm up.  The temperature may range from 46 degrees at the outside of the cluster to 80 degrees at the inside.  The cluster becomes more compact as the weather turns colder.
It takes a lot of honey to provide the energy for all of this fluttering and shivering.  A hive of bees may consume 40 pounds of stored honey over the winter.  On warm days, the bees may briefly fly out of the hive in order to eliminate body waste.
Beekeepers Help Honey Bees Overwinter
The beekeepers' role is to provide the best environment to help the bees succeed in overwintering.  Jack and Sharon prepped the hives for winter this fall.  The hives were robust with lots of stored honey for the winter.  They cleared away weeds from the hives so that predators would not have a place to hide.  They reduced the hive entrances so that mice and other small creatures cannot get into the hive during cold weather.  To supplement the honey the bees stored, they made "candy boards" out of sugar and pollen substitute.  The candy boards are placed in the top of the hive where it can easily be accessed by the bees.
They made sure the hives are adequately ventilated.  Ventilation is important to keep the inside of the hive dry.  The respiration of a hive full of bees contains quite a bit of moisture!   Bees can weather dry cold, but wet cold can be deadly to them.  Strong winds are common here, so they weighted down the outer covers of the hives.
We are hopeful that Queens Catherine and Sophia and their minions will overwinter in fine style.  We hope to be able to offer you a taste of Tudor Mountain Honey in 2020!
January 14, 2020
A rich and meaty steak and mushroom pie is nourishing and comforting on cold winter days!  It is possible that the ancient Greeks were the first to use meat to fill a pastry crust.  According to  http://www.houseofnasheats.com the dish was called a "coffin" in northern Europe.  During Medieval times magpies were a popular filling and thus the  dish became known as a "pie".  Early settlers brought savory meat pie recipes with them to North America.  The Americans, however, used a much deeper dish.  They called it a "pot pie".  
Steak pies are popular today in Scotland during Hogmanay, the celebration of the New Year.  The recipe below is adapted from Jeff Smith's The Frugal Gourmet Cooks American.  He says this recipe is an Old English favorite that remained popular with colonists.
Steak and Mushroom Pie
3 slices bacon cut into large dice
1 1/2 lb. chuck steak cut into 1/2″ pieces
1 1/2 cups beef broth
1/2 cup Madeira wine
2 cloves garlic, crushed
1 lb, fresh mushrooms, lightly sautéed in butter
2 tablespoons chopped yellow onions
3 tablespoons chopped parsley
1 teaspoon thyme leaves
1/2 teaspoon sage
salt and pepper to taste
3 tablespoons each butter and flour cooked to form a roux
1 double pie crust
Preheat oven to 375.  Brown the bacon and remove from the pan.  Brown the beef in the bacon fat.  Add enough beef stock to cover and simmer the meat, covered, for about 30 minutes.  Add the remaining ingredients, except for the roux, and cook for 15 minutes.  Thicken the sauce with the roux.  Roll out the crust to make 4 individual pot pies or one large pie.  Fill the bottom crusts and top with the upper crust.  Bake for 45 minutes until the crust is brown and flaky.  Serves four.  As Jeff Smith notes, "A good dry wine and a big salad is about all you need to complete this fine English meal."
"The Frug" goes on to suggest using this basic technique with other fillings.  Perhaps lamb and artichoke pie?  Or chicken curry pie?  Maybe even a vegetable pie!  The possibilities are nearly endless.  
The team at the Buckhorn Inn is sending you wishes for a happy, healthy, and delicious New Year!
January 6, 2020
The first New Year's resolutions may have been made more than 4,000 years ago!  The ancient Babylonians celebrated their new year in March when the crops were planted.  During a 12-day religious festival they promised their gods that they would repay any debts and return any borrowed items.  These promises could be considered the forerunners today's resolutions.
In Rome, Julius Caesar changed the calendar around 46 B.C. to make the year begin with January.  January was named for the Roman god Janus, who looked backwards into the previous year as well as into the future.  The Romans made many promises of good behavior to Janus.
For early Christians, the first of January became a day of reflecting on past bad behaviors and resolving not to commit them again.  In 1740 John Wesley, the founder of Methodism, created the Covenant Renewal Service.  These became known as "watch night" services.  They became hymn-filled spiritual services that were an alternative to the loud parties to be found elsewhere.
The phrase "New Year's Resolutions" first appeared in a Boston newspaper article on January 1, 1813.  The author wrote about how people use the new year to make right whatever wrongs they had committed the previous year.
Modern Resolutions
Today most people seem to focus their New Year's promises on areas of self-improvement.  Recent surveys say about 45% of Americans make a New Year's resolution.  Sadly, only about 8% of them report attaining their goals.
At Buckhorn Inn we believe the new year brings a chance for a fresh start.  We were delighted to celebrate with our guests as they had their fortunes told, vied for door prizes popular over the last 10 decades, ate a sumptuous meal and danced the night away.
In terms of goals for 2020, we remain charmed by a list we found in Gulf News https://gulfnews.com/lifestyle/community from a few years ago.  We offer them for your inspiration.  And don't forget to tell us what you have decided to resolve for 2020!
Get a new skill.  Adopt a pet.  Learn a new language.  Adopt a no-social-media day.  Begin a daily journal.  Budget and save.  Create and recreate.  Visit another country.  Read more books.  Show others you care.
November 18, 2019
We are very fortunate to be located near the Arrowmont School of Arts and Crafts.  Our guests are able to take advantage of the school's top-quality art instruction in well-equipped studios.  It is a great place to meet new friends in a creative learning environment.  
Wine Nights  In 2020 the art school is offering wine nights.  The classes are held from 6:00 to 9:00 pm and a glass of wine and materials are included in the course fee of $50.  Here are some upcoming offerings:
January 17:  Woven for your Wall, Ceramic Decal Collage, Rings for All Occasions
February 21:  Weave and Wear It, Sculptural Painting, Print/Wine/Repeat
March 13:  Earrings:  Cut to Patina, Wine and Wax, Painted Silks
Arrowmont Adult Short Courses  Short courses will be held February 24-26.  The Monday to Wednesday classes also are held from 6:00 to 9:00 pm for a course fee of $90.  Here are the offerings:
Surfacing with A Smoothing Plane.  Students will learn the fundamentals of using wooden and metal smoothing planes to obtain wood surfaces ready for finish.
Nailed It:  Tool Making for Clay.  Ceramic  learners will make their own forming, trimming, and decorating tools.
Figure Sculpting.  Sculptures will learn how to sculpt the human figure in a naturalistic way using a live model.  The pieces will be fired and available for pickup a few weeks after the class.
Appalachian Broom Making.  Those who complete the class will leave with two different styles of brooms:  a cobweb broom and a hearth sweeper.
Complex Enameled Surfaces.  From graphite, sugar firing, and retexturing techniques, students will add to their enameling skill sets.
Framed Weaves:  Constructing and Using Your Own Frame Loom.  During this class, attendees will construct their own looms to fit their needs.  Then they will make a wall hanging, bath mat, or other small piece on their new looms.
Pairing an art class with the Buckhorn Inn's Great Winter Escape is a great way to add creativity and relaxation to your winter!   Additional information on the 2020 classes may be found at http://www.arrowmont.org/classes 
November 11, 2019
As readers of this blog may remember, the city of Gatlinburg attempted this fall to break the Guinness World Record for most scarecrows within a location.  The previous record holder was Burton-on-Trent, England, which also is the hometown of Innkeeper John Mellor.
According to WVLT-TV http://www.wvlt.tv/content/news/Gatlinburg, Gatlinburg needed to have more than 3,812 scarecrows.  According to the final count, Gatlinburg laid claim to 4,325 scarecrows!  Guinness representatives must confirm the count before the new record becomes official.  
Gatlinburg businesses and community members created scarecrow scenes throughout the community.  Scarecrows also appeared in the Great Smoky Mountains Arts and Crafts Community where hundreds of handcrafted scarecrows could be found as part of the "Scarecrow Trail".
Gatlinburg Fall Festival Continues Through November 21, 2019
According to Gatlinburg PR Manager, Marci Claude, "With so much scenic beauty and festivities to take part in every year, Gatlinburg's harvest season is always an exciting time to visit, and this year's Guinness World Record will only add to that tradition."  Claud pointed out that fall festivities are a true community event, involving everyone.  
Other upcoming community events include the Great Smoky Thanksgiving Arts and Crafts Show.  This show will be held at the Convention Center Tuesday November 26 through Sunday December 1.  The annual Festival of Trees will be held Wednesday November 27 through Sunday December 1. The Festival of Trees will be held at the W.L. Mills Conference Center on the Historic Nature Trail.  And don't forget the Fantasy of Lights Christmas Parade!  The Parade will begin at 7:30 pm from Baskins Creek Bypass.  The route runs right through downtown Gatlinburg.  Viewers will enjoy lighted floats, 11 marching bands, giant balloons, and equestrian units.  And we understand that Santa Claus will be making a special appearance!
The Parade celebrates the holiday season and marks the beginning of Gatlinburg Winter Magic.  We hope to see you during this festive season!
October 29, 2019
Have you stayed in The Tower?  In the early days of Buckhorn Inn, the water tower actually was a water tower!  The tower held an enormous wooden bucket which stored water!   The height was sufficient to pressurize a water distribution system.  When electricity came to the Inn, this system was no longer needed.   Rachael Young, the second mistress of the Inn, had converted the space to a bedroom in the late 1970s for use by her and her husband Robert.
Guests have loved this unique accommodation.  Their reviews have often cited the "cool factor" of the space.  They especially have noted the third level with windows looking in all directions.  This floor has many times been described as a "tree house"!
New Tower Has Kept Charm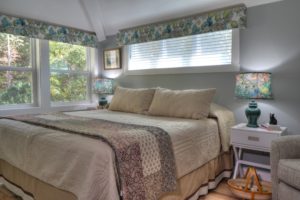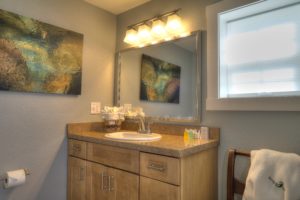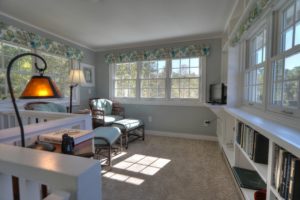 Innkeepers John and Lee Mellor wanted to keep all of the historic charm of this room, but to make it more spacious and convenient.  The renovation has done just that!
Guests enter the new room from their own entrance from their private parking space in front of the Inn.  On the ground floor they find a light and airy bedroom with a king-size bed.  High windows on two walls flood the room with sunshine and look out upon a leafy skyscape.  A kitchenette, smart TV, sitting space and roomy closet provide for coffee and morning news while getting ready for the day.  The room is decorated with original art throughout.  One of our favorite pieces is a painting by local artist Susan Edwards.  The stairway has been transformed into a work of modern art with a cut-out and new railings.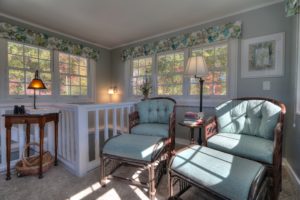 The bathroom on the second floor features a new tiled corner shower and lots of natural light.  We call the top floor The Lookout.  Here guests can relax in comfy chairs and admire the 360 degree views.  We have provided binoculars for bird and wildlife watching.  This is a breathtaking spot to read and relax.  There also is a TV in this room–but we suspect the views will be more captivating than anything on television!
We welcomed the first guests to this room in October 2019.  The response has been overwhelming!  Here are some of the comments from the guest book:  "We are very honored to be the first to stay in The Tower at Buckhorn Inn.  I like the amazing design and the upper room with a good view of the sunset.  Service at Buckhorn Inn is excellent–friendly staff and helpful!  Yummy breakfast and dinner!  I enjoyed the natural splendor and peaceful atmosphere!!  If you are looking for a place/vacation to reflect and relax, this is it!  Thank you Buckhorn Staff!  The Chong Family, Phoenix, AZ"
October 24, 2019
When someone mentions "Thanksgiving" we may think offeasting, football games, and four-day weekends.  The first Thanksgiving was celebrated in 1621 by the surviving Mayflower Pilgrims and Native Americans.  George Washington proclaimed Thanksgiving a national holiday in 1789, Abraham Lincoln set it on the last Thursday in November in 1863, and Congress sanctioned it as a legal holiday in 1941.
What began as a simple expression of gratitude for survival has become deeply rooted in American tradition.  Generations of families have added their customs to this annual celebration.  At Buckhorn Inn it is a time to reflect on the family, friends, and good fortune that permeate our lives.  Our traditions include a devilishly hard Thanksgiving quiz and a bountiful buffet!  Here are some of the delicious dishes guests will find on the menu this year:
COLD PLATTERS
Smoked Salmon
Chilled Shrimp with Cocktail Sauce
Housemade Cranberry Sauce with Orange Essence
Devilled Eggs
Cheese and Fruit
Assorted Pickled Vegetables
Black Eye Pea Salad
HOT DISHES
Roast Turkey with Giblet Gravy
Baked Southern Ham with Pineapple Raisin Sauce
Cornbread Dressing
Mashed Yukon Gold Potatoes
Green Beans Almandine
Butternut Squash Casserole
Maple Glazed Yams
Roasted Brussel Sprouts
DESSERTS
Traditional Pumpkin Pie
Fudge Truffle Pecan Tart
Sweet Potato Cheesecake
Maple Pecan Pie with Bourbon Whipped Cream
Raspberry, Pear, Almond Tart
October 22, 2019
Unless you have been in the Smokies before in the late fall or winter, you might not realize that it is the perfect time to experience our amazing views.  Winter temperatures are more than 50 degrees on about half of the winter days.  Moderate temperatures coupled with low humidity make for comfortable hiking conditions!  Higher elevations are cooler, so dress accordingly.  Be sure to dress in layers and remember to wear a hat.  A thermos of hot cocoa is a treat during your rest breaks on the trail!  Grab a couple of sack lunches from the Inn and have a winter picnic while admiring the scenery.   
Here are some of our favorite winter hikes:
The Laurel Falls trail is 2.6 miles round-trip and paved.  If you are lucky enough to be here during a stretch of below-freezing weather, the frozen water fall creates a crystal castle.  The freezing and thawing from warm days and cooler nights makes an incredible display of dripping ice. 
The hike to Andrews Bald is about 1.8 miles with 1,200 feet in elevation changes.  The hike starts at the Clingmans Dome parking lot.  When you get to the Andrews Bald area, you will have the chance to take in the winter views of the snowcapped peaks of the Smoky Mountains.
Sparkling icicle formations can be seen at the Alum Cave Bluffs, about 2.3 miles from the start of the Alum Cave Trail.  The hike through the old-growth forest is especially quiet and peaceful without the summertime crowds.  The path goes from Newfound Gap Road to the top of Mount LeConte.  You will see log bridges and stone stairways. 
Porters Creek Trail is a gravel road for the first mile or so.  The trail then changes to a dirt trail and heads to Fern  Falls.  The hike to the Falls is about 4 miles, round-trip.  You will cross log bridges and see some of the stone walls erected by this area's original settlers.
If you prefer to drive, Cades Cove is a favorite winter destination.  The valley is a great place to observe wildlife, such as coyotes, raccoons, skunks, and deer.  The Visitor's Center is open year-round and can help you plan your visit to the historic buildings in the area.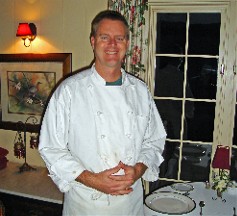 STARTER
California Shrimp Sushi Roll with Pickled Ginger, Wasabi, and Soy Sauce
SOUP
Duo of Roasted Yellow Pepper and Tomato Soup
DINNER COURSES
Grilled Pork Tenderloin with Mexican Rice and Black Beans, Salsa Verde, and Jicama Slaw
And
Seared Alaskan Halibut with Creamed Spinach, Artichoke, and Lobster with a Sherry-Infused Lobster Cream and Micro Greens
And
Deconstructed Beef Wellington with Truffle-Infused Mushroom Duxelle, Herbed Mashed Potato, Roasted Asparagus, Honey-Glazed Baby Carrot with a Cognac Jus Reduction
DESSERT
Lemon Genoise Cake with Blackberry Malbec Sauce, and Lemon Curd Ice Cream in a Chocolate Tulip Cup