Blog




November 12, 2018
This cool and crisp weather makes it the perfect time to fill your Buckhorn Inn mugs with a warm beverage.  Coffee and hot tea are good ways to start the day but we have some other ideas to warm your hands and heart.
Hot Chocolate
This "from scratch" recipe makes a superb hot chocolate.
2 1/2 squares unsweetened chocolate
1/2 cup cold water
3/4 cup sugar
Dash of salt
6 cups milk
Whipped cream
Cinnamon and/or chocolate sprinkles
Melt chocolate with water over direct heat, stirring constantly.  When creamy and smooth add sugar and salt.  Return to heat and cook four minutes longer.  Slowly add milk and heat until chocolate mixture and milk are well-blended and hot throughout.  Pour into mugs, top with whipped cream, and garnish with cinnamon and/or chocolate sprinkles.  Fills four large mugs.
Mugs Full of Mulled Cider
Served with a dash of nutmeg, mulled cider is wonderful to wake-up to on a chilly morning.  
1/2 teaspoon allspice
2 sticks cinnamon
6 whole cloves 
1 quart cider
1/3 cup brown sugar
Tie the whole spices in a cheesecloth bag.  Heat the cider and sugar.  Drop in the spice bag and let simmer until the cider is fragrant and spicy to your taste.  Top each serving with a sprinkle of nutmeg and a curl of orange peel.  This recipe is also refreshing served chilled during warm weather.  
Mulled Wine with Cranberries
This easy recipe comes to us from Real Simple magazine http://www.realsimple.com/food-recipes.
1 1/2 cups cranberry juice cocktail
1/2 cup sugar
2 cinnamon sticks
2 pieces star anise
3 cups dry red wine (try a cabernet sauvignon)
1/2 cup fresh cranberries
Combine the cranberry juice cocktail, sugar, cinnamon sticks, and star anise.  Simmer for 15 minutes.  Stir in the wine and cranberries and bring back to a simmer.  Serve warm with a few cranberries in each mug.
These are some of our favorites, but we would love to hear yours.  Please feel free to send us your warm-up recipes and we will share them on this blog.
November 5, 2018
Today's guest blogger http://www.trip101.com shares five of the best activities to enjoy in the Great Smoky Mountains.  
Perhaps the most renowned mountain range in North America, the Great Smoky Mountains border North Carolina and parts of Tennessee, and offer a virtually unlimited selection of world class outdoor activities.  Opportunities abound across the "Smokies," an iconic portion of the Appalachian Mountains, where diversified forest ecosystems thrive among untouched and protected spaces alike. From spruce-fir forests to river valleys, the Great Smoky Mountains offers a proven solution for outdoor adventure in the American southeast. Check out our top five activities worth pursuing in the Smoky Mountains, to fill your travel itinerary with easy, lifelong memories.
1. Clingmans Dome
Dedicated hikers and lovers of awe-inspiring sights and sounds will fall easily in love with Clingmans Dome. Welcome to the highest mountain peak in all of the Smoky Mountains, with an elevation of more than 6,600 feet. Venture to the peak of this coniferous environment, for sweeping, uninterrupted
panoramas of the surrounding landscapes, together with a simply unmatched sense of accomplishment.
Clingmans Dome is halfway in North Carolina and halfway in Tennessee, and provides hours of hiking enjoyment to dedicated travelers. Drive Clingmans Dome Road, and then take to a rather steep pathway up to the summit itself, fitted with an observation tower for extended viewing enjoyment. When visibility is at its best from the top of Clingmans Dome, you can see for more than one hundred miles in all directions, and into seven individual states. Take in a picture-perfect sunrise or sunset from the peak, and cross-country ski to the destination come wintertime.
2. Cades Cove
Located in Tennessee, well within the confines of the Great Smoky Mountains National Park, Cades Cove qualifies as a staple site in the southeastern portion of the United States. The original home to decades-old settlers, Cades Cove is today beloved for its easy access and scenic wildlife surroundings. The historical element of the site alone is enough to satisfy qualifications for the National Register of Historic Places.
A geological "limestone window" defined by dated erosion, Cades Cove is home to rock formations that are more than 400 million years old. Take note of the fact that you must plan ahead if you plan on visiting Cades Cove, given the fact that it is the single-most visited location within the confines of the National Park itself. Home to Cherokee natives, European settlers and now generations of satisfied travelers, Cades Cove offers the unique synthesis of panoramic landscapes and educational immersion alike.
3. Mount Le Conte
For a truly unique Smoky Mountains experience, you need to stop by Mount Le Conte. The pride of Sevier County, Mount Le Conte offers you access to the highest peak housed entirely within the state of Tennessee. Better yet, on the way to the summit you will have ample opportunities to experience more than 5,000 feet worth of forest. The sandstone and the shale that comprise large portions of the
mountain are easily 450 million years old, if not more.
Annual snowfall at Mount Le Conte totals nearly forty inches per year, so if you plan on visiting this site during the winter you would be advised to dress accordingly. Interestingly, Mount Le Conte is also renowned for its lodge near the summit itself, so if you're looking for some award-winning hospitality along your way to the mountain's peak, that's an opportunity worth pursuing. If you spot a train of llamas trekking alongside of you, don't be alarmed: llamas deliver supplies to the lodge three times a week during peak operational months. Intermediate hiking conditions and frequent opportunities for photos make the hike up Mount Le Conte worth every second of your investment.
4. Andrews Bald
From the bottom of the mountain to the summit, you can expect an elevation gain of nearly 900 feet, coupled with lasting opportunities for photos and fresh, outdoor air alike. If you're looking to reach Andrews Bald, you're going to want to embark on the nearby Forney Ridge Trail, which eventually delivers you to your destination. Well-maintained hiking endeavors and stone steps pave the way to the summit itself, part of a park-wide manicured effort to keep this location easily accessible to all guests.
Andrews Bald is the destination for you if you're looking to bring the entire family along for the ride. Again, this hike is an all-time favorite among dedicated Smoky Mountains hikers, so you're going to want to get an early start, and prepare to accommodate other hikers en route to Andrews Bald itself. All in all, the hike's popularity witnesses to its worth, as a family-friendly, worthwhile endeavor in the Great Smoky Mountains.
5. Roaring Fork
With a name like Roaring Fork, you know the experience is worth your investment. A stream that cuts through the Great Smoky Mountains in the Volunteer State, Roaring Fork today is the home of both a historic district and a nature trail of the same name. Straight from the Little Pigeon River, the Roaring Fork stream is a must-see in the Great Smoky Mountains. Take the trail direct to the stream, along the way experiencing waterfall background, ample opportunities for relaxation and the chance to take life at a pace comfortable for you. Activities include touring historic sites.  Historically preserved cabins, mills and more will greet satisfied hikers upon arrival, making Roaring Fork an ideal outing, especially for those individuals looking for a quick immersion into local lore.
The Great Smoky Mountains Abound with Family-Friendly Activities
No matter the corner of the Great Smoky Mountains in which you elect to spend your time, the massive acreage allows you to capitalize on authentic outdoor adventure, at a moment's notice. From the waterfalls of the Andrews Bald trek to the limestone structures of Cades Cove, There's an outdoor endeavor at the Great Smoky Mountains that can comfortably accommodate anyone's individual preferences. Provide the entire family with the outing at the Great Smoky Mountains that they deserve, with any one of these five activities virtually guaranteed to deliver lifelong memories outdoors in Tennessee and North Carolina! If you are looking for more destination guides and accommodation reviews, hotels and vacation rentals, check out http://www.trip101.com
October 15, 2018
The City of Gatlinburg is celebrating autumn and the harvest September 7 through November 25, 2018 with the Smoky Mountain Harvest Festival. This is a fabulous time of year to visit Eastern Tennessee. You can enjoy the beautiful fall colors, visit talented artists and craftsmen, enjoy the whimsical decorations, or take in one of the area's special events. Many of our guests have marked their calendars for the November 8 Chili Cookoff. More information on this and other events is available at https://www.gatlinburg.com/event.
Gatlinburg is embracing the season with brand-new autumn-themed displays, life-size scarecrow people, and scarecrows created by individual business establishments.
Scarecrows Have Long History as Harvest Helpers
Scarecrows are used by farmers to protect their crops from birds.  Historians tell use that people the world over have used scarecrows for more than 3,000 years.   The first record of scarecrows is by the Egyptians who used them to protect their wheat fields along the Nile.  Each culture designed their scarecrows differently.  Greek scarecrows looked like one of their gods, while German scarecrows are distinctly witch-like.  
Most scarecrows in the U.S. are human in form and dressed in old clothes.  Some farmers use aluminum strips tied to the scarecrow to catch the light and scare away birds.  Inflateable tube men have also been used in this fashion.
The scarecrow has been a powerful symbol in literature.  Nathanial Hawthorne's short story "Feathertop" features a scarecrow brought to life by a witch in Salem, Massachusetts.  Whether you prefer Ray Bolger's scarecrow in "The Wizard of Oz" or Michael Jackson's in "The Wiz", we all root for the scarecrow who bemoans "If I only had a brain . . .".  And Indiana-born John Mellencamp featured the agricultural anthem "Rain on the Scarecrow" in his 1985 album "Scarecrow".  
Some of the most colorful names for scarecrows come from the United Kingdom.  There the figure may be called hay-man, murmet, hodmedod, tattie bogle, mommet or mawkin.
By whatever name, we find scarecrows to be the iconic decoration of the harvest season!
October 8, 2018
In the last issue of our newsletter we celebrated some of our favorite movies scenes involving food.  We invited our readers to contribute to the list, and many of you replied.
Our Readers at the Movies
Roger Meyer from Georgia reminded us of one of our favorite movies, "Tom Jones."  Roger captures the movie well:  "One cannot forget the 1963 movie "Tom Jones" in which Tom, played hilariously by Albert Finney at age 26 is a rascal of the highest (or lowest) order.   He attempts to seduce an older woman in a tavern over a plate of food such as oysters and lobster.  The acting, photography, and dialogue are spot on."
Roger also reminds us of the 2015 movie "Chef" which we have only seen recently.  In the film Jon Favreau leaves his top shelf job as a chef de cuisine to start a food truck.  "The food scenes, especially when he begins to cook for the food truck, will make you salivate and leave the movie theater dying for some good ethnic food."  We agree!
And who can forget "Tortilla Soup" from 2001.  Hector Elizondo invites his daughters home to dine with him every Sunday.  They discuss everything about life and love over these meals.  Raquel Welch plays a widow trying to become a love interest of Elizondo.  The food scenes look delicious.  As Roger says, "You won't need popcorn with this movie, the food scenes will sate you!"
Several readers mentioned "Goodfellas" from 1990.  They called to mind the dinner scene in prison.  Remember the garlic sliced so thin with a razor blade that it would "liquefy in the pan with just a little oil"?
A member of our own team chided us gently for not including "Leave the gun, take the cannoli" from "The Godfather".   This team member also referenced 1967's "Cool Hand Luke" where Paul Newman earned the respect of his fellow inmates by eating 50 hardboiled eggs.  In the words of one prisoner, his stomach was so swollen "like a ripe watermelon that's about to bust itself open".
We have plenty more scenes that you have submitted–keep watching this space for more!
October 1, 2018
The Great Smoky Mountain Association (GSMA) has announced autumn hiking and learning opportunities in our area this October.
Autumn Birding
Both novice and expert birders will find a rich variety of late-season habitats at the Seven Islands State Birding Park in Kodak, Tennessee.  The park is on a peninsula nestled in a bend of the French Broad River and features a diverse landscape of aquatic and grassland habitats, hiking trails, and spectacular mountain views.  In a single day, birders may see or hear as many as 80 different species!  The hike will be conducted on Sunday, October 7 at 8:00 am.  Birders can expect to hike no more than 5 miles on trails rated as moderately difficult.  To learn more about all the activities in this blog post, please visit http://www.gsmassoc.org.  
Another birding opportunity, this one on Monday, October 8 at 8:00 am starts at the Newfound Gap Rockefeller Memorial to seek out high-elevation bird species such as vireos, nesting wood warblers, and flycatchers.  After several hours at Newfound Gap, the birders will drive to Clingman's Dome to follow a nature trail in search of red crossbills, common ravens, and more.  This hike is rated moderate and will be about 5 miles in length.
Hiking
If you are in the mood for an easy to moderate hike of about 6 miles, then be sure to go to Mingus Mill in North Carolina on Monday, October 8.  The hikers will follow a portion of Mingus Creek.  Local hiking enthusiasts will lead the way to Floyd Cemetery and perhaps also to Queen W.H. Cemetery.  The hike includes passing the still-operating Mingus Mill which was built in 1886.
As the group goes to the Enloe Slaves Cemetery they will enjoy spotting wildlife activity, late-season wildflowers, and early fall foliage colors.
On Tuesday October 30 you can meet at 8:30 at the Little Brier School in Tennessee.  Park volunteer Robin Goddard, dressed in character, will take you back in time to 1881 in the one-room Little Greenbrier schoolhouse.  As the hike continues, a professional naturalist will share the cultural history of the Walker family.  She will explain the natural resources they needed so the family of 13 could be self-sustaining.  They worked in their livestock pastures, fruit orchards, and vegetable fields until the 1960's.  Be prepared to walk about 5 miles on easy to moderate trails.
Autumn is a wonderful time to visit the Great Smoky Mountains.  The weather will be perfect for hiking and exploring, and then for enjoying a delightful dinner and cozy accommodation at the Buckhorn Inn.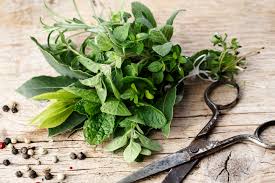 Our kitchen-door herb garden at Buckhorn Inn has provided us with the freshest basil, savory, cilantro, oregano, dill, marjoram, curry and others. This profusion of tastes and aromas has inspired our kitchen staff to develop even more ways to use these herbs.
Compound Butter
What could add more flavor to a dish than a pat of herb butter? Simply mix softened butter with minced fresh herbs like chives, cilantro, tarragon or chervil and chill. Use with your next grilled meat or vegetables. Compound butters also are lovely on baked potatoes. Some combinations to try are dill with salmon, rosemary with steaks, oregano for bread—let your imagination go wild!
Basting Brush
A large sprig of rosemary can be used as a basting brush the next time you barbeque. The sprigs add an extra hint of flavor to the foods on the grill.
Salad Greens
You probably often use minced fresh herbs in your salad dressings. But why not roughly tear them and add them directly to the salad greens? Herbs like parsley and cilantro are perfect for this purpose.
Herb Sauce
We serve this bright green sauce as a salad dressing or as a sauce over grilled salmon.
2 tablespoons almond oil
¼ cup safflower oil
1 tablespoon fresh lemon juice
1 tablespoon Dijon mustard
2 tablespoons heavy cream
¼ cup chopped fresh cilantro
Salt and pepper
Whisk the ingredients together. Makes about ¾ cup.
Summertime Coolers
Herbs like lavender, mint, basil and thyme are delicious in sparkling water, iced tea and lemonade.
Flavored Sugars or Salts
Dry your favorite herbs in the oven. Then mix with salt to provide lovely flavor when finishing a dish. Herb salt can even take popcorn to the next level! The same works with sugar. Mint sugar is perfect for sprinkling on fresh summer berries.
At  Buckhorn  we sometimes offer a chutney as an accompaniment to meat dishes.  To those unfamiliar with chutney, it is a lovely taste treat.  Chutney originated in India as long ago as 500 BC and usually refers to a relish made from fresh fruits and spices.  It comes from the Indian word "chatni" which means "crushed".  British colonials took chutney home with them and made it their own.  They also brought the condiment to outposts in South Africa and the Caribbean where chutneys were made from local fruits.  In England commercially-made cooked chutneys are readily available these days.  They are typically made of fruit, often apples or pears, onions and raisins.  These ingredients are simmered with vinegar, brown sugar and spices for several hours.  The most famous commercial chutney in England is Major Grey's Chutney.  The name is based on a mythical colonial British officer who made his own chutney to accompany curry.  Chutneys can be sweet or sour, spicy or mild, thin or chunky and can include such seasonings as garlic, ginger, mint, turmeric, cinnamon, cilantro or hot chilies.
Chutney typically is used as a flavorful topping for meat dishes or curry.  But you might want to experiment by using chutney:
With cream cheese on crackers for an appetizer
Mixing it with mayonnaise as a spread for ham or turkey sandwiches
Over steamed carrots or other vegetables
Ingredients
¼ cup red wine vinegar
2 tablespoons honey
2 tablespoons light brown sugar
¼ teaspoon ground coriander
1 2-inch cinnamon stick
1 bay leaf
1 ½ cups finely diced mango
1 ½ cup finely diced papaya
1 finely minced garlic clove
½ Scotch bonnet or habanero chili finely chopped
Pinch of ground cloves
Salt and freshly ground white pepper
In a large saucepan combine the vinegar, honey, brown sugar, coriander, cinnamon stick, cloves and bay leaf and bring to a simmer. Add the pineapple, mango, papaya, garlic, ginger and pepper and season lightly with salt and white pepper. Simmer over low heat for 30 minutes. Let cool. Discard the cinnamon and bay leaf. Serve at room temperature or chilled. The chutney can be refrigerated for up to 2 weeks. This recipe yields about 3 cups.
The recipe that appears below is the original Buckhorn Inn recipe. Adding a tablespoon or so of fresh, chopped thyme adds a modern spin to this classic.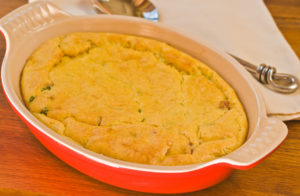 Corn Pudding
2 ½ cups cream-style corn
3 eggs, slightly beaten
2 cups whole milk
1 teaspoon salt
½ teaspoon pepper
1 tablespoon minced onion
½ green pepper, chopped
2 tablespoons melted butter
Mix ingredients together and bake in a 325 degree oven for an hour. This makes an interesting and colorful way to serve part of the vegetable course for either holiday meals or party fare.